Strong aftermarket growth in its propulsion segment and rising deliveries of Leap narrowbody engines to Airbus and Boeing helped drive revenue and profit increases at aerospace giant Safran last year.
Total group revenue stood at €19 billion ($20 billion), up from €15.2 billion – an increase of 25% increase, or 16% on an organic basis.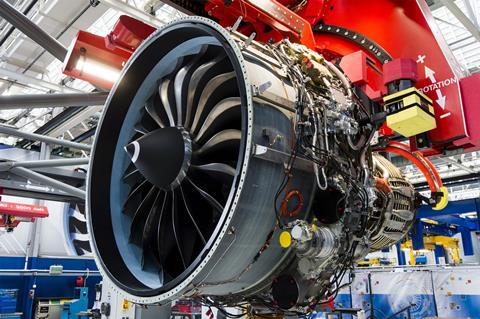 Operating income grew to €2.4 billion, up a third on the €1.8 billion recorded in 2021, while pre-tax profit stood at €1.9 billion, growing 40% from €1.4 billion last year.
Revenue in the propulsion business unit hit €9.5 billion, up 27% on the €7.4 billion booked in 2021, or 18.3% on an organic basis. Divisional income stood at €1.7 billion, an increase of 27% on 2021's €1.3 billion.
Deliveries of narrowbody engines from CFM International – jointly owned by Safran and GE Aerospace – rose to 1,196, from 952 the previous year. Shipments of Leap powerplants grew by 34% year on year, to 1,136, while those for the CFM56 continued to ramp down, falling to 60 against 107 the previous year.
Backlog for the Leap engine family now stands at almost 10,000 units. The -1A variant achieved a 70% win-rate on the Airbus A320neo family in 2022, says Safran.
Services revenue stood at €5.9 billion and original equipment revenue €3.5 billion. There was "solid" aftermarket activity growth of 29%, driven by strong spare parts sales for the CFM56 and high-thrust engines.
Revenue in the interiors business increased to €1.9 billion, from €1.4 billion a year earlier, up 34%, or 25% on an organic basis. Although this generated an operating loss of €140 million, this was a 16% improvement on the €167 million loss recorded in 2021.
Breakeven was achieved in the cabin segment – galleys, lavatories and other features - in the final quarter of the year, largely due to a strong growth in services.
However, weakness continues in the seating operation. Deliveries of business-class seats were significantly lower, falling 19% during the year to 1,704, down from 2,097 in 2021.
Safran also notes additional pressure in the seating business, which contributed to the loss: "Seats is facing supply chain issues and cost-overruns in engineering and production. Strong efforts are deployed to stem these losses going forward."
A halt to Boeing 787 deliveries through eight months of last year also weighed on Safran's aircraft equipment division: shipments of landing gear sets to the programme fell to 21, down 49% from 41 the previous year and those of primary power distribution systems dropped to 112, a 30% reduction on 159 in 2021.
Reveue from the equipment and defence unit hit €7.5 billion, up 19% or 10% organically on the €6.3 billion recorded in 2021. Income stood at €874 million, up 34.5% on €650 million in 2021.
Safran forecast 2023 revenue to hit €23 billion with operating income of around €3 billion – based on Leap deliveries rising by around 50% over last year, to 1,700 units, and narrowbody capacity returning to 2019 levels.

Dominic Perry is deputy editor of Flight International but also contributes extensively to flightglobal.com. Although specialising in the coverage of the helicopter industry, he has written on most topics in aerospace – be they commercial, defence or business aviation. In addition, there has been an increasing focus on the decarbonisation of the industry and zero-emission flight initiatives.
View full Profile