Mitsubishi Heavy Industries' (MHI) troubled SpaceJet programme narrowed its losses for the nine months to 31 December 2020, as developmental costs fell amid an ongoing programme freeze.
For the period, the SpaceJet programme reported an operating loss of Y103 billion ($979 million), compared to the Y175 billion operating loss the previous year.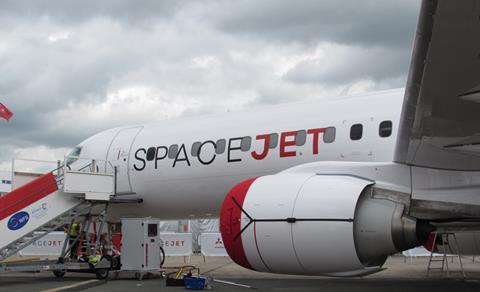 MHI's aircraft, defence and space unit, in which the SpaceJet programme resides, consequently cut its overall losses — from Y130 billion to Y77.1 billion.
Revenue rose marginally, boosted by increases in takings from defence aircraft and missile systems, but this was offset by weakness in the commercial aircraft division. The unit saw a 7.9% year-on-year uptick in revenue to Y532 billion for the period.
The unit also saw its nine-month order value grow 5.9% year on year to Y342 billion.
MHI notes that its aerostructures business was on track for recovery, after "bottoming out" in the April-June period. However, a resurgence in the coronavirus pandemic — and the subsequent weakening of market conditions — in the September-December period impacted recovery, the group adds.
Despite reporting slight increases in revenue and order intake, MHI notes that full-year revenue is "now expected to fall below the initial forecast" of Y700 billion. To this end, the group discloses that it will "accelerate the reduction of fixed costs".
MHI adds that SpaceJet-related losses, which include impairment costs from the acquisition of the CRJ business from Bombardier, are still within target. The group has forecast a full-year operating loss of Y120 billion for the programme.
The group imposed a "temporary pause" on the troubled regional aircraft programme in October, trimming its budget and focusing resources on other business units.