Mitsubishi Heavy Industries' (MHI) aircraft, defence and space unit more than doubled its half-year profits, helped by up an uptick in orders at its aerostructures business.
For the six months to 30 September, the unit was Y17.6 billion ($119 million) in the black at the operating level, compared to the Y7.6 billion half-year profit it made in the year-ago period.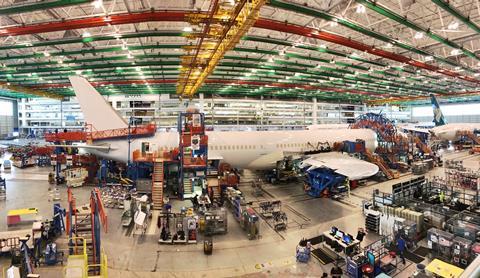 MHI's aircraft, defence and space unit – which also contains the frozen SpaceJet regional jet programme – saw revenue increase 6% year on year to Y262 billion, while its order intake rose nearly 17% to Y208 billion.
Within the unit, the commercial aviation business was helped by an increase in orders for freighter and business jet aerostructures. MHI also notes that profits rose as a result of "top-line increases as well as fixed cost reductions and foreign exchange effects".
For the three months to 30 September, the commercial aviation business delivered seven Boeing 777 shipsets, as well as seven 787 shipsets. It did not deliver any shipsets for Boeing's in-development 777X programme.
MHI revised upwards its earnings forecast for the aircraft, defence and space unit. For the year to March 2023, the unit is forecast to report a Y30 billion operating profit, up from previously-disclosed forecasts of Y20 billion.
It has also revised the forecast for segment revenue to Y650 billion, up from Y600 billion. No change was made to the order intake forecast, which still stands at Y650 billion.
The update - part of a group-wide revision - is the result of "the latest progress in each business and the recent rapid depreciation of the yen", says MHI president Seiji Izumisawa.
He adds: "In line with the assumptions of our initial earnings forecasts, prices are still rising globally and geopolitical tensions continue. In addition, the business environment surrounding the company is becoming increasingly uncertain in the short term, with some regions believed to have already entered a recession and others expected to do so in the near future. We will continue responding appropriately and in a timely manner to issues as they arise and the changing situation in each country and region."
Parent company MHI doubled its half-year operating profit, at nearly Y55 billion. MHI, which also has business units in energy, infrastructure and logistics systems, reported a 13% rise in revenues to Y1.9 trillion.