Mitsubishi Heavy Industries' (MHI) aircraft, defence and space unit returned to the black in its first-quarter financial results, despite slightly lower revenue.
For the three months ended 30 June, the unit — which also contains the now-frozen SpaceJet programme — reported a Y3.5 billion ($31.9 million) operating profit, reversing the Y62 billion loss it made during the same period last year.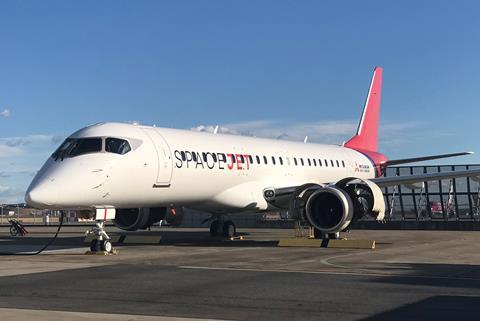 MHI notes that the rebound to profitability comes amid a "large reduction" in costs related to its troubled SpaceJet regional jet programme.
Last October, MHI paused the SpaceJet programme and imposed deeper budget cuts, as the loss-making regional aircraft programme faced fresh rounds of delays.
MHI also disclosed earlier this year that it would be carrying on with type certification documentation activities for the SpaceJet, and "assess [a] possible programme restart" in the current financial year, which will end 31 March, 2022.
A strong domestic recovery in the US has helped the company's CRJ aviation maintenance business in North America, following its acquisition of the latter from Bombardier in 2020.
For the quarter, the aircraft, defence and space unit saw a 15.7% decline in revenue to Y130.8 billion, with order intake slipping 19% year on year to Y61.8 billion.
While defence and space reported a drop in revenue for the quarter, the unit's commercial aviation segment increased its takings, albeit marginally.
Revenue from aero engines dipped slightly year on year, due to a resurgence in coronavirus infections in parts of the world and in Japan, leading to project deferrals.
Against the same quarter in pre-pandemic 2019, aero engines revenue was down 60%.
Still, MHI says the aero engines segment is "steadily recovering", especially in the US, where vaccination rates are high.
MHI's commercial aerostructures segment, which is a Tier 1 supplier for Boeing's 777 and 787 programme, saw revenue decline 65% compared to 2019, but slightly higher year on year.
MHI states the segment "continues to experience negative impact from Covid-19, including decreased deliveries of major models to Boeing".