Mitsubishi Heavy Industries' (MHI) aircraft, defence and space unit posted an operating profit of Y6.5 billion ($48.2 million) for the three months to 30 June, helped by strong performance across the business.
The first-quarter profit is also an 86% improvement against the same quarter in 2021.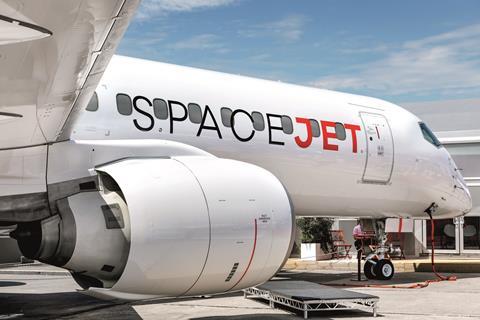 MHI's aircraft, defence and space unit – which also contains the now-frozen SpaceJet regional jet programme – reported a quarterly revenue of Y129 billion, a slight dip year on year.
However, the unit grew its order intake by about 57% year on year, to Y97 billion, with the sharpest increase reported by the defence and space business.
As for commercial aviation, MHI notes cost reductions and foreign exchange effects have helped increase its profit. This, it states, was despite the "continued impact" of production cuts in the aero structures supply chain.
For the full financial year, which ends 31 March 2023, MHI is forecasting an operating profit of Y20 billion for its aircraft, defence and space unit, similar to the profits posted in previous financial year.
Revenue is projected to be slightly lower than fiscal 2021, at Y600 billion, while order intake is forecast at Y650 billion for the full year, also lower than the previous year.