Mitsubishi Heavy Industries (MHI) expects its aero engines business to surpass pre-pandemic revenue in the year ended 31 March, amid an uptick of MRO demand.
In an update to its medium-term business plan, the company expects maintenance capacity to triple in longer term, following the expansion of its engine MRO facility in Komaki in Japan.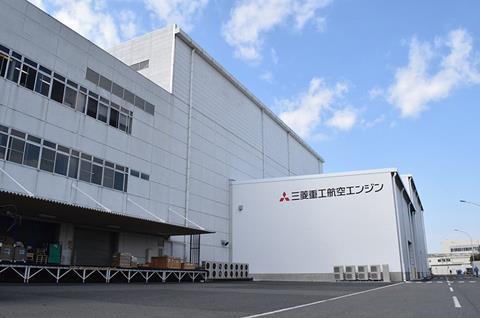 The Komaki facility underwent a 2,500sqm (26,900sqft) floor area increase, taking total floor are to 11,600sqm, MHI Aero Engines (MHIAEL) said in March.
The facility will continue to perform MRO work on the Pratt & Whitney PW4000 and International Aero Engines V2500, but will also take on work for the PW1100G-JM.
MHIAEL is part of the broader Aircraft, Defense, & Space division, which also comprises an aerostructures unit.
While MHI did not provide a forecast for the aerostructures business, it says recovery is still in progress, amid "continuing fixed cost optimisation".
The Aircraft, Defense, & Space division generated revenue of Y432 billion ($3.3 billion) in the quarter ended 31 December, up 8% from a year earlier. Quarterly profit at the division grew 11.1% year on year, to Y20.4 billion.
MHI in February announced it had formally terminated its SpaceJet regional jet programme, citing challenges standing in the way of service entry, including pilot shortages in the regional aircraft market, the need for "extensive funding", as well as technological changes.
At its peak in the mid-2010s, the ambitious programme had well over 200 orders, mainly from US regional airlines and Japanese carriers.
The current medium-term business plan was issued in 2020 and runs through 2024.