Monte Aircraft Leasing has placed its latest order for low-emission turboprop conversions, signing with hybrid-electric powertrain developer Ampaire for up to 50 nine-passenger Eco Caravans.
Comprising 25 firm orders and 25 options, the deal is the third commitment from Monte for green aircraft, having previously struck agreements with Dovetail Aviation and ZeroAvia for hydrogen fuel cell conversions of sub-regional types.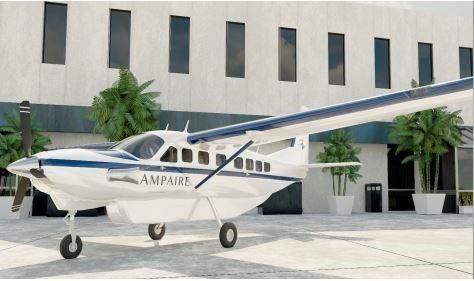 No delivery timeline was disclosed, but Ampaire hopes to obtain Federal Aviation Administration supplemental type certification for the modified Cessna turboprop in 2024.
As a part of the agreement, the pair have also signed up to a "Preferred Partner" relationship, under which Monte will become Ampaire's preferred financing partner for the Eco Caravan, while Ampaire be the lessor's supplier of hybrid-electric Caravans. Its deals with Dovetail and ZeroAvia contained similar provisions.
Currently undertaking ground tests, Ampaire's first prototype conversion is expected to fly in the coming weeks.
For the Eco Caravan, Ampaire replaces the stock Pratt & Whitney Canada PT6 turboprop with its AMP-HS70 hybrid-electric powertrain – a reciprocating engine from Red Aircraft combined with a battery pack supplied by Electric Power Systems.
To date, Ampaire has revealed plans for hybridisation of the Caravan and De Havilland Canada DHC-6 Twin Otter. However, it recently indicated that the Beechcraft King Air was also being considered as a potential conversion candidate.
Speaking at the recent NBAA business aviation show, Brice Nzeukou, director of business development at Ampaire, said it had been "assessing multiple aircraft platforms" and had "identified the King Air as having high potential for conversion".
However, he would not be drawn on whether the King Air would immediately follow after the Eco Caravan. Additionally, Nzeukou declined to reveal Ampaire's current backlog.

Dominic Perry is deputy editor of Flight International but also contributes extensively to flightglobal.com. Although specialising in the coverage of the helicopter industry, he has written on most topics in aerospace – be they commercial, defence or business aviation. In addition, there has been an increasing focus on the decarbonisation of the industry and zero-emission flight initiatives.
View full Profile