Airbus Helicopters has secured an order for one H215 heavy-twin from Japanese aviation services company Nakanihon Air.
The rotorcraft, which Airbus Helicopter says will help the operator "shore up its capabilities for utility and aerial work", joins Nakanihon's fleet of 45 other helicopters from Airbus.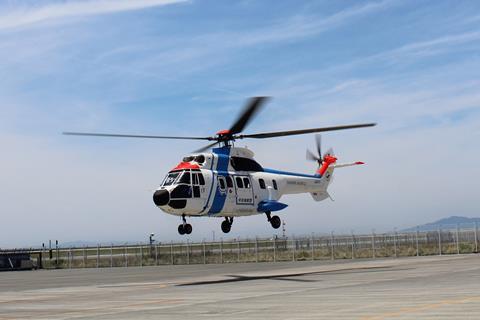 Nakanihon is based near Nagoya Komaki airport and specialises in areas such as emergency medical services, electronic news gathering, as well as passenger and goods transportation in Japan. It also operates a helicopter MRO centre for the H135 fleet.
Airbus Helicopters states that there are currently 28 helicopters of the Super Puma family — which the H215 is part of — operating in Japan. Operators include parapublic operators, and the Japanese defence ministry, which use them for various search and rescue missions, coastguard operations, as well as fire-fighting.
Taku Shibata, president of Nakanihon, says: "We believe the H215 offers the enhanced precision and stability we require, which will not only boost mission readiness but will also build up our fleet capabilities."