The concept of an MRO moving beyond aircraft maintenance and repair might seem far-fetched to some, but for newly-minted GMF AeroAsia chief executive I Wayan Susena, it is a vision he wishes to push his company towards.
Susena, who took over the reins of the MRO in early June, tells FlightGlobal that diversification — even into non-aviation activities — and cost efficiency are critical to ensuring the company's survival.
He spoke to FlightGlobal one day after GMF released its quarterly financial results, where it slipped into the red on the back of higher expenses and falling revenue amid the coronavirus outbreak.
For the quarter ended 31 March, GMF reported an operating loss of $32.4 million, reversing the $8.29 million profit it made in the same period in 2019.
As with other MROs in and around the region, GMF has seen dramatic decreases in its line maintenance business during the outbreak, as travel restrictions were put up and airlines suspended flights.
Susena says on a normal day its line maintenance branch can service upwards of 1,500 aircraft, but the pandemic has led to a 90% drop.
GMF then redistributed some of its manpower to its base maintenance unit, which the pandemic did not hit as hard. The remaining staff in line maintenance also undertook maintenance work for aircraft in storage to maintain airworthiness.
SEEKING NEW INCOME SOURCES
Even as it redeploys manpower, Susena is quick to point out too that GMF will ensure that its employees — which number more than 5,000 — will still keep their jobs, even amid efforts to keep costs low. Only temporary staff with contracts that ended in March did not have their contracts extended.
"We don't want to lay off any of our staff. We need all our people in GMF," says Susena, while he stresses that in the longer term, GMF will "need to be lean".
"We need to right-size the organisation," he adds.
Another pressing issue amid the pandemic is keeping its cash flow healthy. The MRO ended its first quarter of the year with significantly lower cash and cash equivalents than at the start of the year — $3.2 million, compared to nearly $27 million as at 1 January.
To help mitigate the impact of the pandemic, the MRO has already begun trimming unnecessary costs, and looking at other sources of revenue.
For one, GMF is working with other state-owned enterprises (SOEs) in Indonesia, including energy company PT Pertamina, for the maintenance of gas turbines.
Calling it a "significant opportunity" for GMF, which itself is a subsidiary of an SOE Garuda Indonesia, Susena says there can be many "synergies achieved" in tying up with its fellow SOEs.
He notes that GMF already had the capabilities for such turbine repair work, but that the outbreak prompted a look at deepening and expanding capabilities.
And in what would seem like a happy coincidence, Susena notes that orders are increasing in recent months. "They know [our] competencies…in aviation, and especially in engines, and they know our capability and competency," he tells FlightGlobal.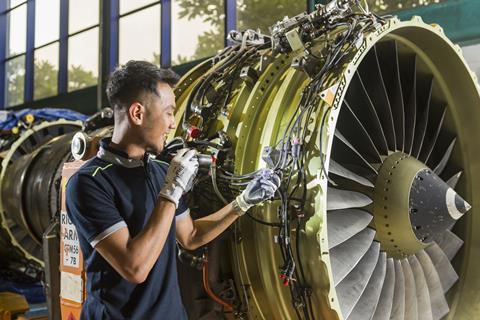 Another area GMF is seeing increased demand in is in passenger-to-freighter conversions, particularly for Boeing 737 Classics.
The area is not entirely new to the MRO. Several years ago it conducted some freighter conversion work, including a Fokker F27 turboprop.
It is currently in talks with several carriers about possible 737 freighter conversion work. It recently converted a 737-500 into a freighter for use by Garuda subsidiary Citilink.
Susena adds that GMF is actively looking for partners to work with to convert 737NGs into freighters, an area which he says will also see greater demand in the near to medium term.
GMF is also building up its capabilities for business aviation maintenance, an area of opportunity pointed out by previous CEO Tazar Marta Kurniawan in an interview with FlightGlobal last year.
The MRO, which signed partnerships with local business jet maintenance providers, has already commenced work on variants such as the Hawker 4000 and the 737-700BBJ from its facility in Manado in East Indonesia.
As GMF weathers the pandemic, it will continue to "look deeply" into opportunities elsewhere, as it pursues new, diversified income sources.
"We [will use] all the competencies we have…we have many smart people here. I think this is our advantage [in building up] the aerospace industry here in Indonesia," says Susena.