For the past two years, Boeing has seen its revenues from commercial aircraft sales plummet, by almost 50% in 2020 and 44% the year before, a double whammy from the 737 Max grounding and the shutdown in aviation.
From such a low, even though Boeing was still stricken by the stoppage in 787 production in 2021, the only way was up, and the airframer recorded a more than 20% increase in sales to reach almost $19.5 billion.
However, FlightGlobal's annual listing of the Top 100 aerospace companies by revenue shows Boeing remains at less than half the commercial sales of Airbus, which saw a steady 5.6% increase to $42.7 billion, bringing the European manufacturer a bit closer to its pre-pandemic total.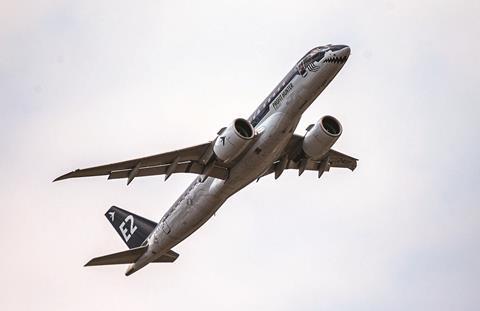 The way both manufacturers report their results makes straightforward comparisons between the big two tricky. Boeing breaks out its Global Services arm – which includes aftermarket activities, training and ancillary services across commercial and defence. The division made just over $16 billion revenues in 2021, roughly $7.5 billion of which was from the commercial sector. This would push Boeing's "real" commercial sales up to around $27 billion.
REGIONAL REVIVAL
Both the main regional aircraft manufacturers had a strong 2021, with ATR – after its nadir of 2020 – notching a 77.6% increase in sales to $836 million, while Embraer was 18.1% up at $1.3 billion.
The other two players in regional aviation are Mitsubishi and De Havilland Canada. The latter has yet to take a decision on whether to restart Dash 8-400 production, after the Toronto-based turboprop manufacturer shut the final assembly line during the pandemic and said the earliest it would consider bringing it back – probably at a new site in Calgary – would be mid-decade. Production of the CRJ family ended permanently shortly after Bombardier sold the rights to the programmes to Mitsubishi subsidiary MHIRJ in June 2020 .
We have also included the corporate aviation manufacturers in this section. Here, the Gulfstream business of General Dynamics remains the clear frontrunner, with revenues steady at just over $8 billion, more than a third ahead of second-placed Bombardier, now a pure-play business jet manufacturer with its Global and Challenger brands.
Textron Aviation – which includes the Cessna, Citation and Beechcraft brands – is next, on just over $4.5 billion, although this includes some military aircraft sales, which complicates things slightly. Dassault's Falcon range and Embraer's corporate jets make up the ranking. The former is the only manufacturer in this section to have seen a fall in revenues during 2021.
Top 100 aerospace companies ranked by revenue
1

2

3

4

5

Currently reading

Pandemic recovery boosts commercial aviation financials