Potential bidders for Piaggio Aerospace have until the end of February to register their interest in acquiring the company after Vincenzo Nicastro, the extraordinary commissioner charged with salvaging the Italian firm, re-opened the sale process.
Talks with an exclusive bidder collapsed last autumn, leaving the P180 Avanti maker heading into a fourth year of extraordinary administration – an Italian business recovery process; Nicastro was appointed to oversee its restructuring and sale in December 2018.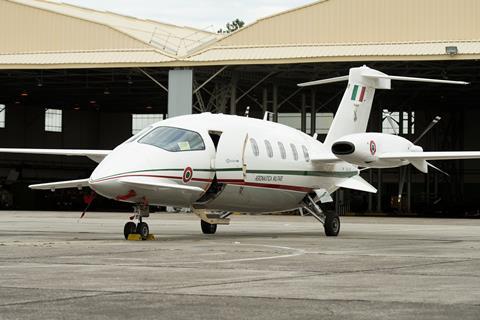 "Discussions with a number of counterparties are still ongoing, but we want to be sure we can guarantee a long-term future for the company," Nicastro says.
"That's why we are formally starting the sale process again, but not from scratch: the preparatory work on the data room is already done, while we have set very tight deadlines for the due diligence and bid submission phases, in order to speed up the process as much as possible."
He says that the objective remains to sell the business – which comprises Piaggio Aero Industries and its subsidiary Piaggio Aviation – as a whole "to a buyer who will be able to propose a solid plan for the relaunch and development of the company and who will recognise its fair value".
Piaggio saw turnover reach €152 million ($172 million) in 2021, with an orderbook totalling around €500 million; further contracts worth €180 million are still to be formalised, says the company. The majority of the recent orders have come from the Italian military.
Included in the sale are Piaggio's headquarters at Villanova d'Albenga in Liguria, plant and machinery related to the firm's production lines, inventory, certifications, employment contracts – covering a total of 900 staff – intellectual property, and US subsidiary Piaggio America, according to the call for expressions of interest in the business.
In addition it notes that "any final determination with regard to the sale shall in any case be subject to the authorisation of the Italian Ministry of Economic Development".