Roll-Royce and Air China have signed a joint venture agreement to set up an engine MRO facility in Beijing.
The new joint venture, called Beijing Aero Engine Services Company Limited (BAESL), will support Trent 700, Trent 1000 and Trent XWB-84 engines.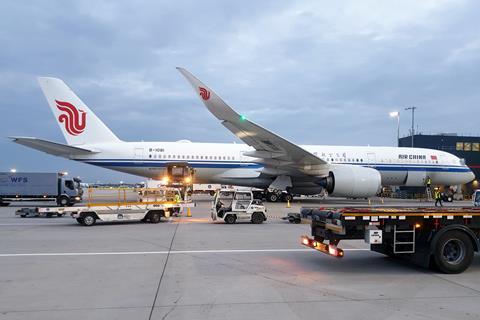 When fully operational in the mid-2030s, the facility will support up to 250 shop visits annually. While it will primarily service Air China's fleet, the facility will also target R-R operators in the Greater China region and beyond.
R-R notes that the BAESL facility is an "important part" of its China strategy. It adds: "It aligns in-region growth with in-region capacity providing customer proximity, which supports our sustainability goals by reducing overseas transportation of engines for MRO activity. The new facility will also support the continued expansion of our capable, competitive and flexible global Care Network."
R-R engines power around 60% of China's widebody fleet. The enginemaker adds that the Greater China fleet makes up about 20% of the global Trent engines flying today.
Air China's Airbus A330, A350 and Boeing 787 widebody fleets are powered by R-R engines.
Airline president Ma Chongxian says: "In the future, Air China and Rolls-Royce will continue to deepen our profound partnership and start a new journey of cooperation in the field of high thrust engine maintenance."
Apart from the R-R partnership, Air China is also a majority shareholder in Beijing-based MRO provider Ameco, which is a joint venture with Lufthansa.