Rolls-Royce will make its bid for the world speed record for an electric aircraft later this summer following minor delays to its ACCEL project.
First flight of the modified Sharp Nemesis NXT – called Spirit of Innovation – was due in May, with the record attempt tentatively set for the first half of 2021. However, those milestones have now been pushed back.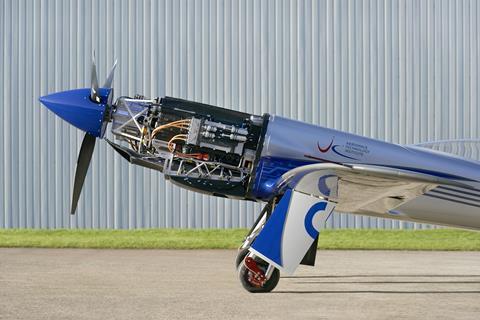 Matheu Parr, who heads the project for Rolls-Royce, says that the project is "progressing well" and a final round of "maturity testing" is taking place this week at Gloucestershire airport.
Assuming that no problems are found, then the ACCEL aircraft (G-NXTE) will be dismantled for a road journey to Boscombe Down airfield in Wiltshire, from where the maiden sortie and record attempt will take place. That road transfer is necessary as the rules governing experimental aircraft like the Spirit of Innovation prohibit ferry flights.
The first flight will be in "the coming weeks", says Parr, following additional ground tests at Boscombe Down. Around 20 flights are planned prior to the record attempt "in the summer period", he adds.
Given the experimental nature of the ACCEL effort, some schedule slippage was always likely, with an additional impact on suppliers caused by Covid-19, says Parr.
In addition, a "deliberate design decision to get maturity into the aircraft" before the first flight has slowed the pace slightly.
Parr describes ACCEL as "a fantastic collaborative project to look at the challenges of electric aviation and to do that at a fast pace."
Rolls-Royce has modified the stock Nemesis NXT airframe, replacing the internal combustion engine with three independent motors from YASA and a 400kW, 6,000-cell battery pack from Electroflight.
The target is to achieve a speed of over 300mph (260kt/482km/h); a combustion-engined Nemesis NXT is capable of around 400mph. The current record stands at 210mph.
ACCEL is part-funded by the Aerospace Technology Institute.