Rolls-Royce has confirmed the sale of its ITP Aero unit for €1.7 billion ($2 billion) to a Spanish consortium led by Bain Capital.
The move falls under the company's efforts to rebuild its balance sheet, "support medium-term ambition," and return to an investment grade credit profile, says R-R.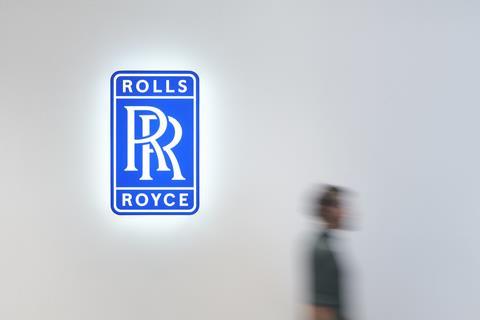 "Bain Capital will help drive ITP Aero's industrial plan as a means to ensure continuity and guarantee the maintenance of workforce levels," adds R-R. "It intends to further grow the business, which will remain a key long-term strategic supplier to Rolls-Royce."
Investors welcomed the news, with R-R shares jumping 11% on the London Stock Exchange. News that R-R was speaking with the Bain consortium emerged in early August.
A year earlier, R-R had said that it was considering an ITP Aero sale, as part of an asset disposal effort aimed at raising £2 billion ($2.7 billion) to help offset weakness in the general airline and aerospace business owing to the coronavirus pandemic.
The Bain consortium includes Spanish companies SAPA and JB Capital. After the sale, ITP Aero will retain chief executive Carlos Alzola, with the company's headquarters remaining in Zamudio, Spain.
"The creation of an independent ITP Aero is a great opportunity for the company, its people and other stakeholders," says R-R chief executive Warren East.
"A financially, technologically, and industrially strong ITP Aero is also vital to Rolls-Royce. The company will remain a key strategic supplier and partner for decades to come. We believe we have selected new owners willing to support the business for the long-term and build on its successful track record."
R-R's board and consortium members have approved the ITP Aero deal, which is subject to closing conditions and regulatory blessings. R-R expects it to close in 2022.
"This transaction is a significant moment for all of us at ITP Aero," says ITP's Alzola. "We will be able to further strengthen our position in the aerospace industry, continue to provide high levels of innovation and service to our customers and expand our business to capture significant growth opportunities."
R-R acquired ITP Aero four years ago, turning it into a wholly-owned subsidiary after picking up the majority shareholding of the venture in which it had previously held 47%.
ITP Aero is a partner on several engine programmes among them the Trent XWB, Trent 7000 and Trent 1000 for the Airbus A350, A330neo, and Boeing 787.