Safran's chief executive believes an Airbus target to be building more than 70 single-aisle aircraft a month by the middle of the decade may be over-ambitious.
However, detailing the French aerospace group's half-year results on 28 July, Olivier Andries said output of "well over 60 can be sustainable". The European airframer plans monthly production of 64 A320neo-family airliners by the second quarter of 2023.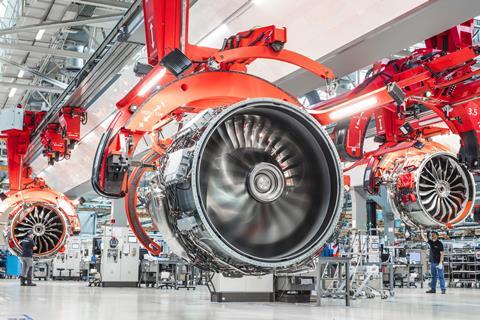 It comes as Safran, which builds with GE Aviation the CFM International Leap engine that is fitted to all Boeing 737 Max aircraft and around half of all A320neo-family narrowbodies, gears up for a rebound in the commercial aviation market after an improvement in its second-quarter performance.
The group, which also makes cabin products, nacelles, and defence electronics, saw recurring operating income for the six months drop 30.4%, to €659 million ($783 million), on revenue 21.6% lower at €6.88 billion.
Referring to the long-term Airbus targets, Andries says Safran has been "listening carefully to all our customers…and I have to say, we are not sure that the market has the appetite of such heights". He says the company has agreed the number of engines it will deliver to the airframer in 2021 and 2022, with 2023 shipments under discussion.
Safran will deliver "north of 800" Leap engines in total this year, says Andries, a "small step-up" on 2020, a year in which the Max was largely grounded. Most of this will be a result of an increase in Leap-1As for Airbus as Safran had delivered many Leap-1Bs to Boeing "in advance" during 2020.
Delivery numbers for engines remained lower in the first half of 2021 than in the same period in 2020, with shipments of CFM powerplants at 448 units, compared with 534 a year ago.
However, Safran says it has secured notable pieces of business, including IndiGo selecting the Leap-1A for its 310 new Airbus narrowbodies, and United Airlines purchasing 200 more Leap 1B-powered Max jets.
Services make up around half of Safran's revenues, and they remained under pressure in the first half with so much of the global fleet grounded or under-utilised. Civil aftermarket revenue was down over a quarter. However, Safran also sees signs of improvement there, with weekly CFM engine flight cycles down 35% in July compared with 2019. The corresponding difference in April was 46%.
Andries says he is confident a recovery begun in the second quarter will continue through the year. However, he cautions: "The second half will be essential to see if the effects of the anticipated recovery in air traffic in quarters three and four are reflected in the full-year results."