Safran is hopeful that a recovering civil aviation market in 2022 will see the group deliver an improved financial performance as the industry recovers from its low point in early 2021.
That rise will be in no small part driven by a significant increase in output on the CFM International Leap narrowbody engine family it produces in partnership with GE Aviation.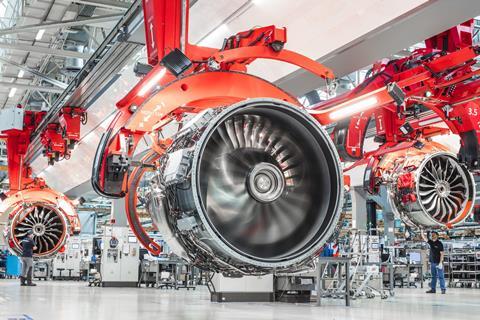 Safran forecasts shipments of Leap engines rising through 2022 to meet a 2,000-per-year target in 2023 – a marked increase on the 845 Leap powerplants delivered last year.
Over the next 12 months Airbus is aiming to sharply raise production of A320neo-family jets – where the Leap-1A is an option – with Boeing also increasing output of the Leap-1B-powered 737 Max.
Civil aftermarket revenue is also anticipated to be 25-30% higher, driven by improved narrowbody utilisation rates.
Revenue is targeted at €18-18.2 billion ($20.2-20.4 billion) in 2022, significantly above the €15.2 billion recorded in 2021, itself a 7.5% fall on the €16.4 billion booked a year earlier.
Safran's forecast is based on no further disruption to the world economy and single-aisle capacity continuing to grow over the course of the year by 35-40%.
"Safran is well-placed to benefit from the positive trends in both aftermarket and original equipment as narrowbody traffic returns to pre-crisis levels by end-2022," says Olivier Andries, Safran chief executive, noting the "significant operational and financial progress" made during 2021.
"In 2022 we see real momentum for sustainable growth, and are ready to raise [original equipment] production rates and accelerate the pace of investment for decarbonisation," he says.
Revenue in the propulsion division slipped slightly, falling 1.1% year on year, mainly due to lower volumes of the legacy CFM56 powerplant.
Overall CFM deliveries stood at 952 engines – 845 Leaps and 107 CFM56s – down on a total of 972 in 2020. Shipments of the M88 engine for the Dassault Aviation Rafale fighter almost doubled, rising from 33 in 2020 to 64 last year, on strong export sales. Turnover for the unit stood at €7.4 billion, down 1.1% on an organic basis.
However, Safran's equipment business – which includes its brakes and landing-gear units – was hit by lower levels of activity in the widebody market, thanks to the recovery in long-haul travel lagging that seen in short-haul. Slower production of the Boeing 787 also impacted Safran, where landing-gear shipments fell by a little over 65%, to 41 from 120 a year earlier. Divisional revenue fell by 6.3%, to €6.3 billion.
By far the weakest divisional performance was registered by the interiors business where revenue dropped by 19.9%, to €1.47 billion, where deliveries of seats and cabin equipment to the OEMs, and services were hit.