UK-listed aerospace supplier Senior believes it is in a strong position to benefit from the shift to greener aviation.
Speaking to media on 12 October, chief executive David Squires stressed that new propulsion technologies using batteries, fuel cells and hydrogen all require products, for example heat exchangers, that are already produced by the company.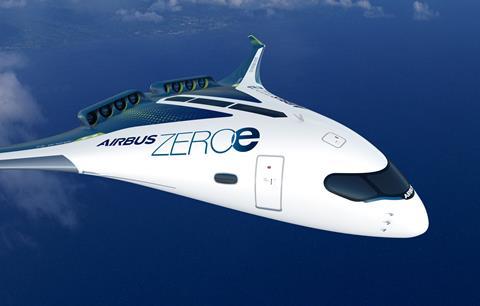 "They will need evolution of our products rather than new products," he says. "These are areas we have been involved in for decades."
Senior's aerospace business, which represents around two-thirds of its turnover, specialises in fluid conveyance and thermal management systems.
He sees smaller electric aircraft becoming more prevalent later this decade, with hydrogen power coming to the fore in the mid-2030s for single-aisle aircraft. However "it will be quite a lot longer before they all run on hydrogen", he adds.
In his view, sustainable aviation fuel will have to play a part if the industry is to cut its carbon emissions in the interim.
In a nine-month update released on 11 October, Senior said the aerospace business was trading in line with expectations. Although turnover slid 11% year on year on an organic, constant currency basis, the company points out that the first quarter of 2020 was largely unaffected by Covid-19 disruption.
At group level, the revenue reduction was just 4%, to £496 million ($674 million), as a faster recovery in Senior's automotive business took hold.
Squires anticipates a similar ramp-up taking place in aerospace with "an inflection point at the end of this year".
Senior warns in the trading update of "supply chain constraints" affecting the industry, but Squires says its operating businesses are "taking steps to make sure we are not affected".
Earlier this year Senior was the subject of a takeover approach from LSF XI Investments. Although that ultimately went nowhere, several of the company's aerospace contemporaries such as Ultra Electronics have also this year been targeted by private equity funds.
Squires notes a "huge wall of money" that private equity businesses are looking to invest. He acknowledges that as a "public company there is always the possibility that someone will come in and bid for us" but "we don't have the for sale sign up".
"We are focusing on growing the business and executing our strategy," he says.
This article has been edited to correct the CEO's name.