SIA Engineering narrowed its quarterly operating loss on the back of higher revenue and continued governmental support, though it warns that the "trajectory for a sustained recovery" remains unclear.
The Singapore Airlines MRO unit adds that while it has seen an increase in flight volume from Singapore-based carriers, "any meaningful increase in flight frequencies is not expected to materialise in the short term".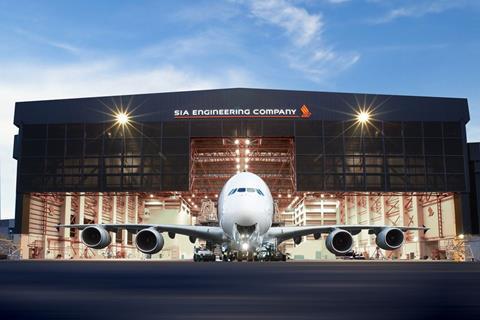 For the three months ended 30 June, SIAEC was S$2.9 million ($2.1 million) in the red, compared to the S$8.6 million operating loss it reported in the previous financial year.
Revenue inched up 5.7% to S$128 million, as SIAEC's line maintenance division saw the number of flights handled at Singapore Changi airport nearly double year on year to 9,755. Still, SIAEC notes that it was a smaller increase compared to the previous quarter.
The number of base maintenance checks also rose during the quarter, though it notes that the checks were "of lighter work content" compared to the last year.
Expenses for the quarter rose 0.9% year on year to S$128 million, with government grants and wage support schemes helping to offset any further increases in costs.
It notes that without government support, its quarterly losses would have been worse, at S$24 million.
In its outlook, the MRO states: "Amidst the encouraging pace of global vaccination efforts, countries with high vaccination levels are exploring the easing of travel restrictions. The trajectory for a sustained recovery remains uncertain and rests on the global vaccination and infection rates as well as border restrictions."
SIAEC adds that it will continue with transformation efforts, including "reshaping" its subsidiary and joint venture portfolios, "to strengthen its ability to build new capabilities for existing and new generation aircraft and components amidst a changing business environment".