SIA Engineering (SIAEC) widened its first quarter operating loss despite a pick-up in maintenance activity, as government wage support eased.
For the three months to 30 June, the MRO unit of Singapore Airlines was S$4 million ($2.9 million) in the red at the operating level. This compares to the S$2.9 million operating loss it posted during the same period in 2021.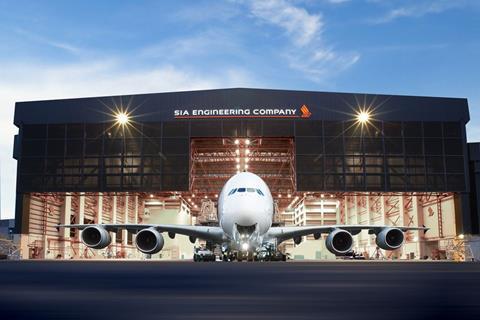 Quarterly revenue rose about 37% year on year to S$172 million, helped by a "strong recovery" in flight activity at Singapore's Changi Airport. The company notes that as at June, the number of flights handled was about 55% of pre-pandemic volume.
Costs, meanwhile, increased about 37% to S$176 million, which SIAEC attributes to a reduction in government wage support.
"Excluding the impact of government wage support, expenditure rose by 19.3%, significantly lower than the increase in revenue," it states.
The company's net profit for the quarter fell about 12% year on year to S$12.8 million.
In its outlook, SIAEC says it was wary of "many challenges" that remain, despite strong travel recovery following the reopening of borders.
"[Many] challenges remain that can affect the pace of recovery, including the growing manpower crunch in the aviation industry, macroeconomic risks of rising inflation, higher interest rates and recession, supply chain disruptions arising from the Russian-Ukraine conflict, as well as possible threats of outbreaks from new Covid-19 variants," says SIAEC.
On government wage support, the company says financial support ends in July, and that it will "continue to exercise financial prudence" in light of rising costs.