The Civil Aviation Authority of Singapore (CAAS) and Airbus will launch a feasibility study on hyrdrogen-powered aircraft operations in early 2022, as part of a wider collaboration on sustainable aviation.
The feasibility study will run for two years, says the CAAS, which inked a memorandum of understanding on sustainable aviation with the European airframer on 18 November.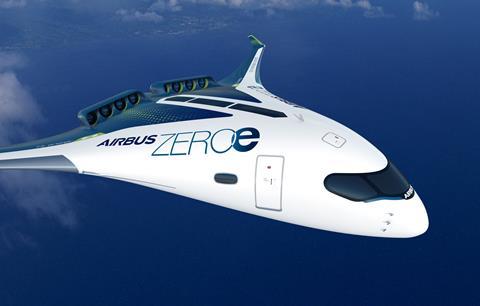 It will explore the concept of an airport hydrogen hub, as well as the infrastructure requirements for hydrogen-powered aircraft in the future.
"These include the production, storage and distribution of hydrogen, aircraft ground services, logistical equipment, and refuelling systems," the authority states.
Adds CAAS: "The study will examine how these requirements can be planned and provisioned for in airport development, whether upfront or in stages to provide optionality as the technology is developed."
As part of the MOU, both parties will also examine the demand and production supply of alternative aviation fuels and how these will contribute to decarbonisation efforts, as well as explore research and development opportunities for disruptive technologies and airport infrastructure.
Calling the partnership an "important pathfinder" for a sustainable aviation sector, CAAS director-general Han Kok Juan says: "Decarbonisation is a key priority for international aviation. Recovery from the COVID-19 pandemic will not be a return to business-as-usual but an opportunity to rebuild an aviation sector that is more sustainable. It is not a question of whether but of how to make flying greener and developing concrete pathways to achieve that goal while ensuring that air travel is still accessible."
Meanwhile, Airbus chief technical officer Sabine Klauke adds: "The decarbonisation of our industry requires a combination of approaches, hydrogen being one of them, and will need unprecedented cross-sector collaboration to create the new aviation infrastructure ecosystem."
Apart from the CAAS, Airbus is also working with Air New Zealand to explore the feasibility of hydrogen-powered aircraft operations.
Singapore's partnership with Airbus comes nearly a week after the CAAS announced it would begin a year-long trial to use sustainable aviation fuels (SAF) on aircraft from 2022.
The pilot, which will incorporate the blending of SAF at local facilities, certification, as well as delivery, will be jointly run by CAAS, flag carrier Singapore Airlines, as well as Singapore's investment company Temasek.