A 20-month pilot programme to deploy sustainable aviation fuel at Singapore's Changi airport has shown the site is "operationally ready" for SAF, but that more work is needed to support its adoption.
Starting in February 2022, the SAF pilot programme involved three parties: the Civil Aviation Authority of Singapore (CAAS), Singapore Airlines, and GenZero, a unit of Singapore's Temasek sovereign wealth fund that is focused on decarbonisation. They intend to use the findings from the study to inform plans for a future "Singapore Sustainable Air Hub".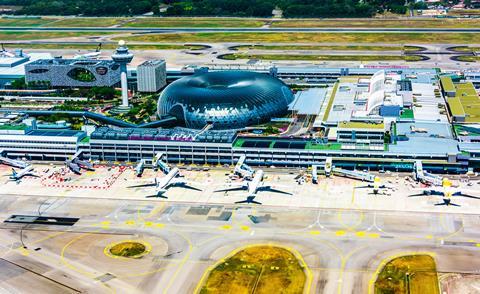 "The pilot validated the end-to-end process needed to bring SAF into Changi airport, including procurement, blending of neat SAF with conventional jet fuel in Singapore facilities, safety certification and delivery of the blended SAF to Changi airport," says a joint release.
"The pilot affirmed that SAF can be safely deployed to Changi airport and uplifted onto flights without any modification to existing airport infrastructure."
In addtion, the programme tested a credit scheme, whereby SIA's purchase of 1,000 tonnes of neat SAF generated 1,000 credits which could then be sold to corporatesor cargo operators looking to reduce their carbon footprints.
"The pilot validated that transactions in SAF credits could be conducted in a trusted and transparent manner which lays the foundation for a global marketplace for SAF credits," say the parties.
Around two-thirds of the 1,000 SAF credits were sold during the pilot, proving "market demand" for the credits.
The pilot, which will help inform the planned Singapore Sustainable Air Hub Blueprint, also revealed that work is still required on fronts such as education and outreach. Policy support is also required from companies and the government.
"SAF, which [IATA] estimates to account for 65% of the carbon emission reduction needed by aviation to reach net-zero in 2050, will be a key component in Singapore aviation's decarbonisation efforts," adds CAAS director general Han Kok Juan.
This story has been edited to correct the duration of the pilot and to clarify the SAF credit process.