Spirit AeroSystems swung to an $870 million loss in 2020, a year in which it slashed 8,000 commercial aerospace jobs and restructured its operations to align with markedly reduced production rates.
By comparison, the Wichita-based company turned a $530 million profit in 2019.
In the fourth quarter, the company lost $296 million, reversing a $68 million profit in the same period of 2019, the company reports on 23 February.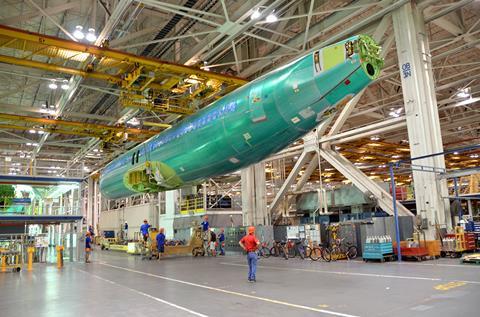 The 8,000 job losses represent 44% of Spirit's 18,200-strong workforce at the end of 2019.
Spirit shrunk its operation quick in 2020 amid what chief executive Tom Gentile calls the "dual crisis" of the 737 Max grounding and Covid-19 pandemic.
Because of those factors, Spirit's deliveries of 737 Max components plummeted to 71 "shipsets" in 2020, down 88% from 606 sets in 2019. Spirit makes 737 fuselages, which generated about half its revenue before the grounding and pandemic.
Spirit delivered 19 Max fuselages in the fourth quarter of 2020, down from 153 in the same period of 2019, it says.
The aerostructures company makes aerostructures for other Boeing and Airbus jets. But that work, too, suffered in 2020 as both airframers curtailed production of several aircraft types.
Spirit delivered components for 920 jets of all types in 2020, down roughly half year on year. Deliveries of A350 components, for example, slipped 44% year on year to 62 sets in 2020, while A320-family sets declined one-third to 466.
That resulted in Spirit's 2020 revenue falling 57% year on year to $3.4 billion.
Spirit has said it expects to deliver about 10 737 fuselages monthly in early 2021. Boeing has not disclosed its expected 2021 737 production rate but plans to produce 31 of the jets monthly by some point in 2022.
Spirit has said it plans initially to lag Boeing's rate by about five fuselages monthly as it burns through inventory.
Restructuring work done in 2020 should cut Spirit's annual costs by $1 billion, the company says.
Spirit ended 2020 with cash and cash equivalents worth $1.9 billion, down from $2.4 billion on year earlier.
During 2020, the company purchased various Bombardier aerospace assets for $275 million.