Spirit AeroSystems expects not to close its planned $420 million acquisition of Belgium company Asco and has raised uncertainty about closing a planned $500 million purchase of Bombardier's commercial aviation businesses.
Wichita-based Spirit, which makes airframes and aircraft components, says the European Commission is unlikely to approve its purchase of aerospace component supplier Asco by the deal's 1 October deadline.
At that time, the purchase agreement will "automatically terminate", and Spirit does not intend to extend the deadline.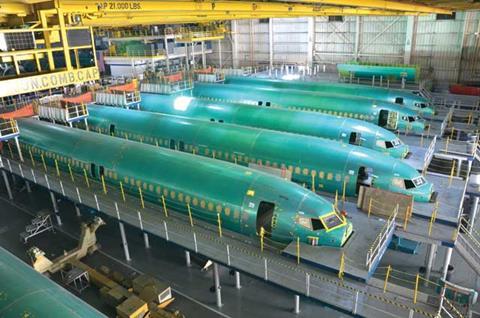 "The conditions to the Asco acquisition have not been satisfied and the company does not expect to extend the Asco end date," Spirit says in a 22 September regulatory filing. "The company's management believes it is unlikely that the [European Commission] condition will be satisfied by the Asco end date."
Additionally, "there can be no assurances" that conditions related to Spirit's planned Bombardier acquisition will be met by that agreement's deadline of 31 October.
The Bombardier deal's conditions, "some of which remain outstanding", include terms related to "material adverse change" to the Bombardier commercial aerospace businesses.
Other conditions relate to "legal impediments" and "third-party consents", says Spirit's regulatory filing.
Neither Asco, Bombardier or Spirit immediately responded to a request for comment.
The news comes as Spirit struggles through the combined pressures of the 737 Max grounding and the aerospace industry downturn, which have hammered Spirit's 737 fuselage production rates, and its other programmes.
Spirit has secured additional funding in recent months; it closed a $1.2 billion financing deal in April and is working to close another $800 million loan.
The US company has viewed the Asco and Bombardier purchases – both planned prior to the downturn – as a means to reduce reliance on the 737, diversifying its product portfolio to include defence and other commercial aerospace work.
Spirit and Asco signed their agreement on 1 May 2018. Initially, Spirit was to pay $650 million to purchase Asco, doing so via subsidiary Spirit AeroSystems Belgium Holdings. Following renegotiations stemming from regulatory hurdles and a cyberattack against Asco, Spirit secured two price discounts, to $420 million.
Spirit repeatedly pushed back the expected close date of the Asco buy as the European Commission reviewed competitive concerns – work that progressed amid a broader US-Europe trade spat.
Spirit signed its deal with Bombardier on 31 October 2019. That agreement calls for Spirit to acquire a wing-manufacturing site in Ireland, manufacturing in Morocco and a maintenance and overhaul site in Dallas.
The sale aligns with Bombardier's strategy of exiting the commercial aerospace market and to focus on business jets.
In mid-August, Spirit's Gentile said his company had sufficient funds to complete both acquisitions. He also said Spirit was cutting 8,000 jobs, or 44% of its workforce.
But financial analysts have questioned if the shattered state of the aerospace industry might lead Spirit to rethink the purchases.
Spirit lost $356 million in the second quarter of 2020, down from a $168 million profit in the same period of 2019.
Prior to the Max grounding, the 737 programme generated roughly half of Spirit's revenue. The company has said it now expects to produce just 72 737 fuselages in 2020, down from a rate in early 2019 of more than 50 monthly.