Spirit AeroSystems has almost halved the cash sum it is paying for Bombardier's aerostructures business after the pair agreed a last-minute change to their deal.
Under an agreement announced in October 2019, Spirit was to acquire the aerostructures operations for $500 million in cash and assume $300 million in pension liabilities and $290 million in government loans, for a total of $1.1 billion.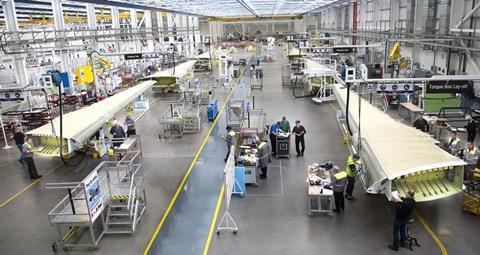 However, the contract revision sees the cash sum reduced to just $275 million, taking the total valuation to $865 million, says Spirit,
Confusingly, though, Bombardier claims the sale is worth $1.2 billion and says the US firm is assuming pension and loan liabilities worth $824 million. In addition, the agreement contains "certain adjustments to the parties' trading agreements favourable to Bombardier", says the Canadian firm.
The discrepancy in valuations, it says, is due to the differing accounting standards being used by the two parties.
With an end-October deadline looming, there had been increasing speculation over the status of the acquisition, which had been thrown into doubt by the impact of the coronavirus crisis on civil aerospace.
Bombardier says that all conditions related to the sale of the aerostructures unit – which includes plants in Belfast, Northern Ireland and Casablanca, Morocco, plus a MRO operation in Dallas – have now been met; the deal will close on 30 October.
The Belfast operation includes the innovative composite wing plant for the Airbus A220 which was designed as the Bombardier CSeries.
The sale will complete Bombardier's exit from commercial aviation as it transforms into a "pure-play" business jet manufacturer, while allowing Spirit to reduce its reliance on revenue from Boeing.
Article edited to correct a figure in the third paragraph.