ST Engineering's commercial aerospace unit has acknowledged that it has yet to fully recover to pre-pandemic levels, despite reporting a steady increase in revenue this year.
In a business update for the nine months to 30 September, the unit reported a 25% year-on-year rise in revenue to S$2.2 billion ($1.6 billion), helped by increases in all segments including MRO and conversions.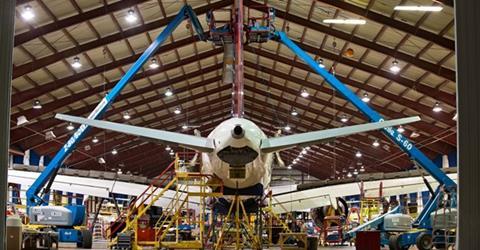 ST Engineering states that it is still seeing demand for nacelle work, as well as engine and component MRO work.
Passenger-to-freighter conversion demand is also strong, with slots booked through 2026. Conversion lines are "still going through [the] learning curve]," it adds. The company performs conversion work for a range of platforms, including the Airbus A321/A320P2F and A330P2F programmes.
For the three months to 30 September, the commercial aerospace unit reported revenues of around S$776 million, up 28% year on year. It is also the third consecutive quarter-on-quarter increase in revenue.
The commercial aerospace unit clinched S$1 billion in new contracts in the same period, bringing the total value of contracts won to about S$3 billion since the start of the year.
Still, Singapore-headquartered ST Engineering points out that its aerospace business has "yet to recover fully to pre-Covid-19 levels", noting that air travel demand currently stands at around 74% pre-pandemic levels.