ST Engineering's commercial aerospace unit believes that domestic travel and air cargo will lead the recovery from the coronavirus downturn.
To this end, ST Engineering states in its quarterly business update that it will "maintain focus" on narrowbody MRO works. Airframe MRO will also be quicker to recover, compared to engine and component MRO, which it expects to remain "subdued".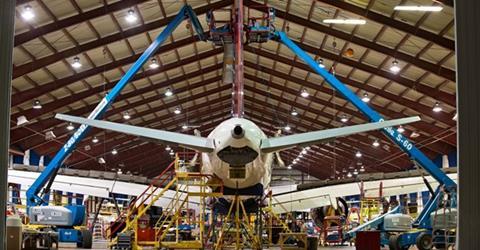 The company adds that there is "strong market demand" for dedicated freighters, as passenger travel demand remains in the doldrums. ST Engineering has been an active player in the passenger-to-freighter (P2F) aircraft conversion market — having converted and delivered the world's first Airbus A321P2F aircraft in 2020.
On 11 May, the company announced it was launching a new leasing joint venture with Singapore sovereign wealth fund Temasek Holdings, specialising in dedicated freighter leasing, in response to increased demand for cargo aircraft.
For the three months ended 31 March, ST Engineering clinched contracts valued at S$573 million ($432 million), amid a "subdued" market environment.
Contract included an order for four A321P2F from European lessor GTLK Europe DAC, as well as a five-year airframe MRO contract with an undisclosed North American carrier.