ST Engineering has entered into a joint venture with cargo operator SF Airlines to set up a MRO unit in Mainland China, as it eyes "rising opportunities" in MRO demand in China and Asia-Pacific.
The new unit will be based in Ezhou Huahu airport, a dedicated logistics hub airport located in China's Hubei province. ST Engineering retains a majority stake in the company, with SF Airlines holding the remaining 40%.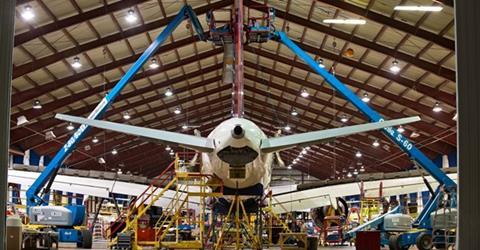 The company's first facility is expected to be operational in 2025, states ST Engineering, which also provides airframe MRO services in two other Chinese cities: Guangzhou and Shanghai.
ST Engineering also has an engine MRO in the southern Chinese city of Xiamen.
The new joint venture will not only support MRO demands of SF Airlines, but also "serve the increasing needs of other cargo and passenger airlines operating in the region:", states ST Engineering.
Jeffrey Lam, ST Engineering's commercial aerospace president, says: "With the strengthening of our commercial aerospace network in China, we will be able to better meet the growing needs of airlines in the region, providing them the capacity and flexibility that come with greater choice of locations."