The Indian government is "in the process" of divesting Air India Engineering Services (AIESL), the former MRO unit of now-privatised Air India, and is preparing to invite expressions of interest "very soon".
Secretary of civil aviation Rajiv Bansal, speaking on 21 March at the CAPA India Aviation Summit in Delhi, did not disclose a timeline, but said discussions are at an advanced stage "at the ministerial level".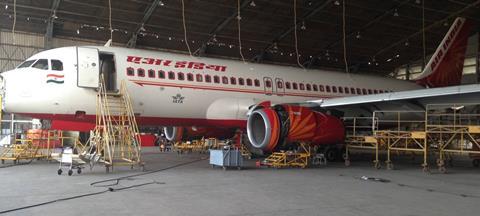 Bansal adds that the privatisation of AIESL – if it goes through – will "augur well" for the Indian civil aviation sector, which he believes is hamstrung by a lack of a major MRO provider.
AIESL is the largest MRO operator in India, and has six hangar facilities across the country, according to its website.
While the country has several other MRO firms – including privately-owned GMR Aero Technic and Air Works – most heavy maintenance work is sent overseas to providers in Singapore, the Philippines and the Middle East.
Delhi hopes to stem the outflow of MRO work and has introduced measures, such as lowered taxes, in a bid to boost domestic providers.
Bansal's disclosure comes over a year after the Indian government divested its shareholding in national carrier Air India to the Tata Group.
During that privatisation process, which concluded early 2022, the Indian government retained ownership of AIESL.
Air India chief Campbell Wilson, who spoke a day earlier at the summit, called that decision a "negative surprise".
While AIESL still provides MRO services to Air India, the contract concludes at the end of the year.
"What happens after that…is a matter of deep consideration, given our [fleet] expansion…ultimately we will have to build our capability in-house," said Campbell.