Stelia Aerospace is hoping to tap a growing market for airlines flying narrowbodies such as the Airbus A321XLR on long-haul routes with its new lie-flat Opera business-class seat.
The Airbus subsidiary says Opera is the first full-recline seat designed for a single-aisle aircraft offering the "same comfort as a widebody" seat. It hopes to announce a launch customer later this year and have the seat in service in the first quarter of 2021.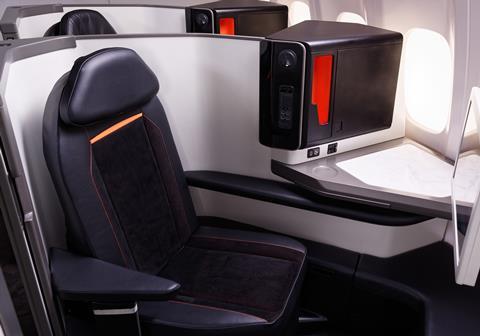 The French-based manufacturer has been offering premium-cabin seats for about 20 years, initially as Sogerma before its 2015 merger with aerostructures unit Aerolia to form Stelia. Aside from a part-recline narrowbody seat called Celeste that it developed about five years ago for the A320, its focus has been on the twin-aisle segment.
Although Stelia is Airbus owned, about half its seats are fitted in Boeing aircraft, says Emmanuel Regnier, vice-president of sales and marketing.
The coronavirus crisis could give a boost to products such as Opera, at least relative to premium seats optimised for widebodies, as more airlines introduce narrowbodies to long-haul routes and offer a business-class cabin.
According to Regnier, airlines interested in the Opera product are looking to operate with between 10 and 16 business-class seats – mostly on the 4,700nm- (8,700km-) range A321XLR.
Opera, says Stelia, comes with the "widest full-flat bed available on single-aisle", a 20in monitor, an integrated door and a laptop stowage zone, together with "a large and stable meal table", stowed under the cocktail table. Other features include adjustable armrests and ambient light.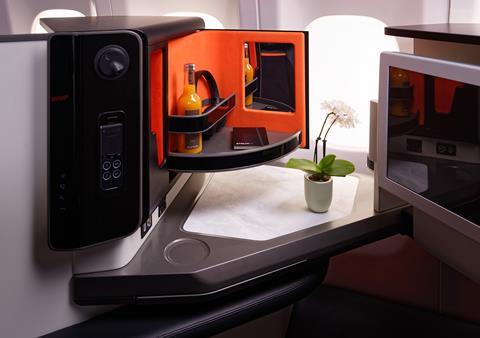 Thierry Kanengieser, vice-president of cabin interior for Stelia, describes the seat as a "major step forward for our industry", adding: "Airlines operating single-aisles on transcontinental routes can offer their customers the outstanding level of comfort that they can find on widebodies."