Civil aerostructures was the only brake on growth in a strong first half for Italian aerospace and defence champion Leonardo.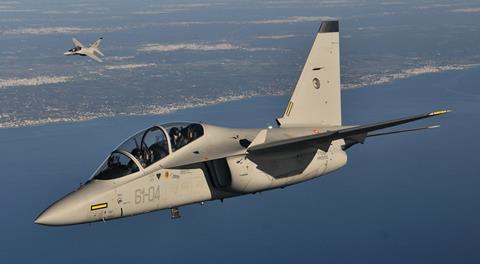 The company reported on 29 July year-on-year revenues up almost 8% to €6.3 billion ($7.5 billion), and orders 9.5% higher at €6.7 billion, with several of its defence businesses – including aircraft, electronics and helicopters – seeing double-digit increases.
However, despite "positive signs" of a recovery, particularly in the regional sector, according to chief executive Alessandro Profumo, revenues at Leonardo's civil aerostructures unit fell more than 35% to €305 million, a result of the slow-down of the Boeing 787 and ATR programmes.
Leonardo is a major supplier to the Dreamliner, while it builds ATR fuselages as part of its partnership in the regional turboprop venture with Airbus.
However, Profumo notes that, because aerostructures contributes only around 5% of group revenues, its exposure to this pandemic-struck segment is limited.
He says strong demand for military aircraft, including the NH Industries NH90 and the M346 trainer, and participation on the UK-led Tempest future fighter project, means the company's "long-term visibility is greater than we have ever seen".
With the military market likely to remain "strong and robust", Leonardo is "on track" to meet its full-year expectations, but warns the Covid-19 crisis could "continue to impact civil aerospace".
Margins remain healthy, with EBITA up 37% to € 400 million and aerostructures being the only loss-making part of the business.