US-based Surf Air Mobility has signed for up to 150 Cessna Grand Caravan EXs, with deliveries to start in the second quarter of 2022.
Comprising 100 firm orders and 50 options, the deal, part of an "exclusive" relationship, is subject to Surf Air Mobility obtaining financing, says Cessna parent Textron Aviation. The value of the deal has not been disclosed, however.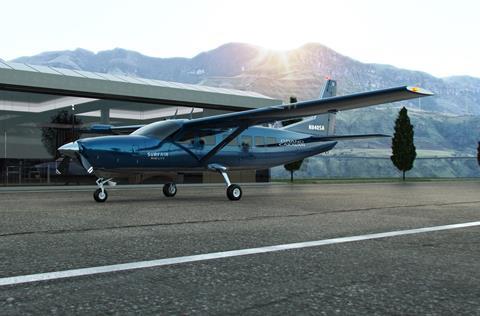 Technology firm Surf Air Mobility is working on a hybrid-electric version of the Grand Caravan through its February acquisition of powertrain specialist Ampaire. The nine-seat aircraft will be available from 2024, it says.
"We believe electrifying the Cessna Grand Caravan is the most significant step that can be made toward reduced-emission flying with the quickest path to market," says Sudhin Shahani, co-founder and chief executive of Surf Air Mobility.
Under their relationship, the partners will jointly engage in sales and marketing of the platform; Textron Aviation will "use its expertise and deep customer relationships to help accelerate adoption of the electrified Cessna Grand Caravan".
Surf Air Mobility intends to build a regional short-haul network across the USA.
A retrofit of the hybrid-electric powertrain will be available for existing Grand Caravan users.
Powered by a standard Pratt & Whitney Canada PT6 engine, the turboprop version of the Grand Caravan can transport up to 14 people. Range is stated as 912nm (1,690km).