Surf Air Mobility has quietly abandoned its acquisition of hybrid-electric powertrain developer Ampaire, although the online booking provider still appears to harbour ambitions in the electric aircraft segment.
Disclosing the $100 million takeover in February 2021, Surf Air said Ampaire's hybrid-electric propulsion technology was "a critical component in Surf Air Mobility's plans to dramatically improve the affordability, accessibility, and environmental footprint of aviation".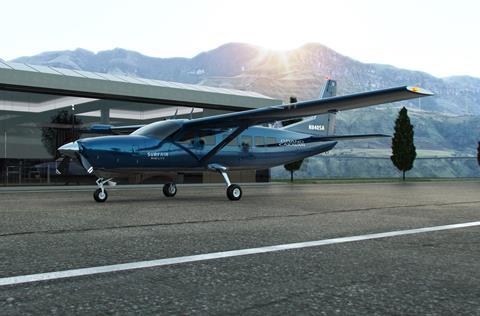 Following that agreement came an "exclusive relationship" with Textron Aviation to electrify the Grand Caravan turboprop produced by the manufacturer's Cessna subsidiary. As part of that deal, Surf Air said it had agreed to purchase up to 150 Grand Caravan EXs for conversion using its "proprietary hybrid electric powertrain technology".
But earlier this week Ampaire indicated said it had "decided to move forward as an independent company", later confirming that the acquisition is no longer proceeding.
Surf Air refuses to say why it is not pressing ahead with the deal, or to detail the status of its agreement with Textron Aviation.
However, FlightGlobal understands that the company still intends to pursue an electrification project, details of which should be released shortly.
Ampaire founder and chief executive Kevin Noertker, says: "The world is very different than it was when we signed that agreement back in late 2020 and Ampaire's a very different company."
Although declining to detail the reasons behind the deal's collapse, citing confidentiality agreements, he adds: "I will say I'm very confident in this path and it's one that I chose."
Noertker says the since takeover was dropped Ampaire has sourced additional funding from previous investors and has since begun another capital raising effort.
Ampaire hopes to have its hybrid-electric Grand Caravan conversion ready to enter service in 2024.