Tecnam has launched mission system installation work on its first pair of P2012 Sentinel Special Mission Platform (SMP) surveillance aircraft. The step follows the completion of factory acceptance flights at its Capua site in Italy last December.
"After a rigorous evaluation process, the undisclosed customer has specifically chosen the P2012 Sentinel," the company says.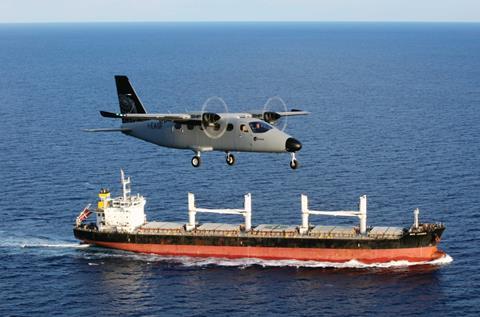 Tecnam last June launched the Sentinel SMP version of its twin-engined P2012 Traveller utility aircraft, working in collaboration with sensor provider Leonardo.
Disclosed mission system options include an Airborne Tactical Observation and Surveillance Light system, and a baseline configuration carrying the company's Gabbiano TS-80 radar and LEOSS electro-optical/infrared sensor.
The Sentinel SMP adaptation will enable operators to carry a crew of seven on missions lasting up to 9h, with a maximum take-off weight of 3,680kg (8,100lb). Potential roles include intelligence, surveillance and reconnaissance, plus search and rescue support, naval traffic control and electronic/communications intelligence duties.
Cirium fleets data indicates that Tecnam has so far delivered 45 nine-passenger P2012 Travellers. US carriers Cape Air and Southern Airways Express have received 30 and three, respectively, with the remainder handed over to single-unit operators.

Craig Hoyle joined Flight International in 2003, and has edited the now monthly title since 2015. He has reported on the UK, European and international military aviation sector for more than 25 years, and produces our annual World Air Forces directory.
View full Profile