US-based flying car manufacturer Terrafugia will reportedly shut down US operations after it pulled the plug on local development of its two-seater Transition aircraft.
The company, based in Woburn, Massachusetts, is said to have laid off between 80 and 100 people, as Forbes reported on 16 February. It has also apparently moved intellectual property and further development work of Transition to China.
Terrafugia did not respond to a request for comment, and separate emails to several company executives also went unanswered.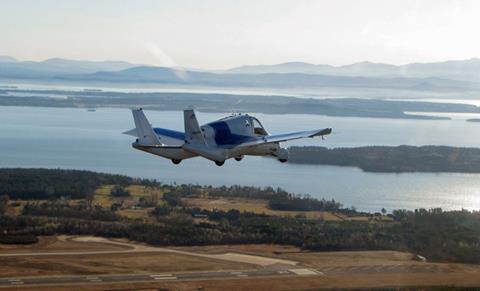 Terrafugia was founded in 2006 by Carl and Anna Dietrich together with three other Massachusetts Institute of Technology graduates. It was acquired in late 2017 by China's Zhejiang Geely Holding Group, which also owns automotive manufacturers Lotus and Volvo Cars.
In 2019, the company's founders left, after Geely decided to replace most of Terrafugia's senior leadership team with staff based in China.
The deal with Geely had promised extra financial and industrial muscle to help bring the Transition flying car to market.
That design received a special light sport aircraft airworthiness certificate from the FAA just last month. The company said on 26 January that it was aiming for the aircraft to be "legal both in the sky and on local roads in 2022".
Terrafugia is one of an ever-increasing number of companies working on aircraft designs for urban air mobility projects of the future. Other firms vying to make air taxi service mainstream include Lilium, Volocopter and EHang. Commercial aircraft manufacturers Airbus and Embraer are also in on the act.