Textron has completed the acquisition of Slovenian aircraft developer Pipistrel in a €218 million ($238 million) all-cash deal.
Pipistrel – which in recent years has pushed into the electric aircraft space – will sit within Textron eAviation, the company's newest business unit.
This has brought together expertise from across the firm's subsidiaries, including Bell, Textron Aviation and Textron Systems, to pursue a "long-term strategy to offer a family of sustainable aircraft for urban air mobility, general aviation, cargo and special mission roles".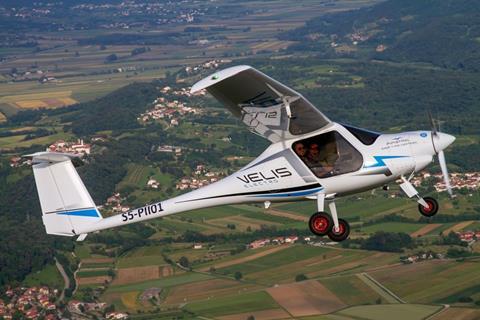 Rob Scholl, who has been leading Textron eAviation since its inception, has now been named as president and chief executive of the segment.
"Pipistrel has already achieved what many other companies only aspire to – certifying and delivering highly regarded electric aircraft to customers around the world," says Textron chief executive Scott Donnelly.
"We are excited to accelerate Pipistrel's development and to welcome its talented people into our organisation, where we will pool expertise to make Textron a world leader in sustainable aircraft for a wide range of missions."
While Pipistrel has traditionally been a manufacturer of gliders and piston-engined light aircraft, it has lately moved towards all-electric and hybrid designs. This includes the Velis Electro, the first electric aircraft to receive full type-certification from the European Union Aviation Safety Agency (EASA). Additional hybrid and electric models are in development.
Pipistrel will remain a distinct brand under Textron's ownership, alongside fellow fixed-wing aircraft manufacturers Beechcraft and Cessna. Its headquarters, research and development and manufacturing facilities will remain in Slovenia and Italy; Textron plans additional investments in those sites to expand the firm's capabilities.
Under the terms of the transaction, Pipistrel founder Ivo Boscarol will retain a 10% stake in the company for a two-year period, during which he will serve as an advisor on future product plans and strategies. Textron's purchase price includes a sum covering the cost of buying out Boscarol's holding.