More than a century after Hilda Hewlett, Amelia Earhart, Harriet Quimby and others trailblazed their way into the cockpit, women still make up just a tiny percentage of the global pilot population.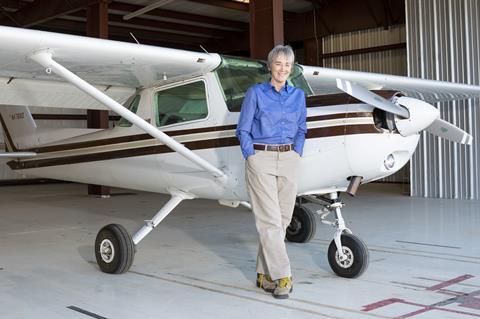 According to the Federal Aviation Administration (FAA), only about 7% of all pilots in the USA are women. Among commercial pilots, the percentage of women is around 5%, and just 2% of all certified aircraft mechanics are women.
These statistics, despite imminent upheaval and potential coronavirus-prompted mass layoffs, continue to cause concern across the air transport industry.
Though the feared pilot shortage may be on hold for the moment, the sector has yet to find a formula that will help solve one of the most vexing problems it will face in the coming years. As age-related mandatory retirements kick in, it must make itself attractive to the other 50% of the population.
Diversity in the aviation and aerospace industry seems excruciatingly difficult to come by. Where other male-dominated career paths such as engineering and the natural sciences have succeeded in bringing the percentage of women into the double-digits, aviation continues to lag far behind.
But why is it so hard and why is it taking so long to achieve a better gender balance? What are the biggest barriers to female participation, and why is the industry, 110 years after the first women earned their pilot certificates, still struggling to remove them?
A newly-established group of 30 female aviation professionals, led by former US Secretary of the Air Force Heather Wilson, has been tasked to figure that out.
The "Women In Aviation Advisory Board" (WIAAB), established as part of the FAA's re-authorisation bill of 2018, is looking to "develop and provide independent recommendations and strategies … to explore opportunities to encourage female students and aviators to pursue a career in aviation."
In addition to Wilson, who spent 10 years as a congresswoman and currently serves as the president of the University of Texas at El Paso, other members of the board include accomplished commercial and military aviators, educators and policy specialists from airlines, aerospace companies, nonprofit organisations, trade associations and universities.
Wilson is herself an instrument-rated private pilot, and knows what it takes to succeed in a male-dominated environment. She is a graduate of the US Air Force Academy, as a member of the third class to admit women.
She owns a two-seater Cessna 152, and is constantly defending it from good-natured teasing.
"My husband thinks that it doesn't really qualify as an airplane because his Ford goes faster on I-10," she says. "But I look at other aircraft and I think, 'Why would I want to give up my little 152? It's the cutest thing and it goes on just six gallons an hour.'"
Wilson and her colleagues on WIAAB have two years to develop strategies on how to entice more women to fly more planes. And while the global pandemic decimated commercial aviation in the short-term, there is a consensus that this is the perfect time to develop a plan for the industry to become more inclusive than ever before.
The current crisis, Wilson says, "will allow us to build back better."
During its first meeting in August, which took place online, the board identified three primary challenges that women looking to pursue a career in the field must overcome: cost, culture and the work/life balance.
The cost of flight training can be prohibitive for both men and women – with minorities finding it particularly difficult to access higher education opportunities due to the sheer financial burden of it – usually $100,000 or more. And balancing a flying career with a family is hard for anyone.
But culture is where aviation trips up most often, and loses the women it so desperately needs.
"It has to do with whether women feel welcome in the profession," Wilson says. "One anecdote that came up was, have you ever noticed that women pilots are still required to wear guys' uniforms? Most other organisations kind of got over that about 20 years ago. It's not as though we are going to focus on uniforms but it was a representation of a wider cultural problem," she says.
The issues begin in school, where career counsellors are often ill-equipped to advise a young girl how she can join the field, and succeed in it.
While boys generally know early – usually by the time they are about 11 – that flying or repairing airplanes is the career for them, girls tend to decide at a later age to try something as challenging as aviation.
The dearth of role models plays a huge role during the time that is most influential in terms of choosing a career, Wilson says. "It's hard to be what you can't see."
"Motivations are also different," she adds. While a disproportionate number of boys find satisfaction in solving a problem, more girls don't just want to solve the problem, they want to know why the problem matters, Wilson says.
"Men will talk about a job, and a career and good pay. For women who find aviation appealing, it's more about the adventure, to master skills, and to push yourself."
There is also often a misperception among young people that the only pathway to a fulfilling aviation career is if they focus early on a STEM field: science, technology, engineering and math.
That's hogwash, Wilson says. There's nothing to stop a history major from becoming a fighter pilot, she adds.
"Particularly in middle school and beyond, if you come at aviation from a STEM education focus alone, you are going to miss a lot of girls," she says. So while the world does need more tech- and science-focused professionals, "we also need to tell [girls] that you don't have to be an engineer to be a pilot, or a mechanic, you can come at it from all sorts of different perspectives."
Despite layoffs looming as the aviation industry tries to find its new normal following the pandemic, Wilson and the other members of WIAAB know that their work will be instrumental for the future of the industry.
"The opportunities that are going to open up are going to be significant, and we all know that now is the time to make some changes," she says.

Pilar Wolfsteller, Americas Air Transport Editor, is based in Las Vegas and brings a pilot's perspective to her beat. She covers airlines across the hemisphere and her interests also include future-oriented sustainable aviation technology and urban air mobility projects. Pilar began her journalism career at the global news agencies Bloomberg and Reuters, and has reported from more than 50 countries.