The Tokyo Metropolitan Government will evaluate the capabilities of the Leonardo Helicopters AW609 civil tiltrotor, as it mulls future air connections with the outlying island of Ogasawara.
Located about 1,000km (540nm) away from Tokyo, Ogasawara island lacks direct air links with major Japanese cities.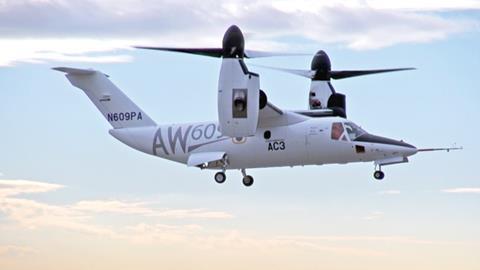 Tokyo is evaluating the tiltrotor's ability to "deliver unprecedented levels of transport" to the island in future, says Leonardo.
"Missions would be performed in all weather conditions and with limited infrastructural impact thanks to its helicopter-like footprint. The AW609 excels at providing fast point to point transportation at long ranges, whether it is connecting city centres or providing timely access to remote locations," the company adds.
Leonardo says the the tiltrotor, which can be configured to seat up to nine passengers, is "ideally suited" to Japanese operational requirements, including passenger transport, emergency medical services, surveillance, as well as electronic newsgathering.
Says Leonardo: "The AW609 would support Japan in the introduction of innovative technology ways and solutions to meet connection and public service requirements across the nation, both in normal and in emergency and extreme natural events conditions."
Cirium fleets data indicates there are 129 Leonardo rotorcraft in operation in Japan, with a further two in storage. Operators include the Japanese coast guard, as well as various prefectural police forces.
The first two AW609s, slated to go to launch customer Era Group, is under production at Leonardo's Philadelphia base, the company adds in an update.
"An advanced Flight Training Device and the world's first AW609 Full Flight Simulator will be available for training later this year," it adds.
Cirium fleets data indicates there are five AW609s on order.