Turkish Airlines' MRO unit has signed a multi-year agreement with ST Engineering for a maintenance-by-the-hour component support.
The contract sees ST Engineering provide component repair support to Turkish Airlines' fleet of Boeing 787s from August. Under the agreement, Turkish Airlines will also have access to a regional component pool, as well as dedicated component consignment stock in Istanbul.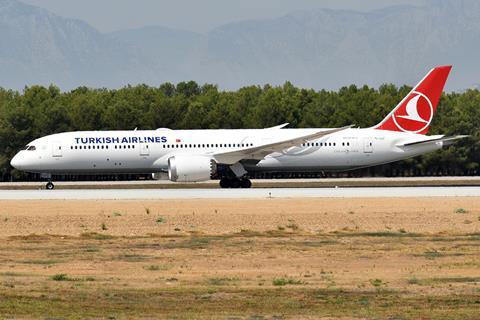 The agreement also covers reciprocal repair work with Turkish Technic, ST Engineering adds.
According to Cirium fleets data, Turkish Airlines has a fleet of 15 in-service 787-9s, with a further 10 aircraft on order.
ST Engineering commercial aerospace chief Jeffrey Lam says: "Beyond Boeing 787 component support for Turkish Airlines, we also look forward to widening our scope of cooperation with Turkish Technic by collaborating in other MRO opportunities. This will allow both companies to leverage each other's strengths when servicing their respective global clientele."
On the same day the MRO agreement was inked, Turkish Airlines signed a memorandum of understanding to co-operate with Vietnam Airlines, initially focusing on cargo.
Under the agreement, struck at the Farnborough air show, the two carriers will co-operate more closely on cargo operations with a view to initially implementing a codeshare in 2023.