The fledgling urban air mobility (UAM) sector has been boosted in recent months, with a slew of major orders for electric vertical take-off and landing (eVTOL) aircraft.
Embraer's UAM unit Eve clinched two significant orders within a week for its eVTOL aircraft – first from Halo, a helicopter and UAM travel provider in the US and UK, for 200 examples, then a 50-aircraft order from Brazil-based helicopter operator Helisul.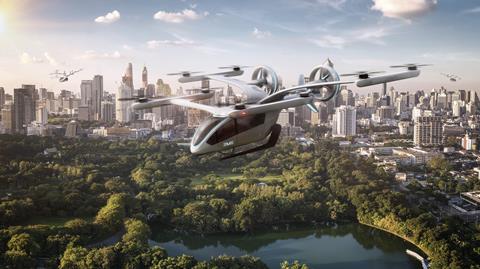 But the order that thrust UAM into the mainstream came a few days later on 11 June, when American Airlines, Virgin Atlantic Airways and aircraft lessor Avolon agreed to purchase up to 1,000 of Vertical Aerospace's in-development VA-X4 air taxis.
Over in Asia-Pacific, there has not been an order announcement of a similar scale, though UAM players have announced various partnerships and joint ventures.
For example, Eve in June announced a partnership with vertiport company Skyports, focusing on eVTOL-vertiport operation development in Asia and the Americas.
It follows a partnership with Singapore-based Ascent, an air mobility technology provider, to "accelerate the development of the UAM ecosystem in Asia-Pacific".
Indeed, UAM companies in the Asia-Pacific tell FlightGlobal they remain committed to the market, one which they say is rife with opportunity, despite the absence of major orders - thus far at least.
Hon Lung Chu, head of Asia-Pacific at Volocopter, thinks eVTOL penetration in the region is only a matter of time. "It's really not a matter of if, but it's a question of when this will happen."
Asked by FlightGlobal about the lack of headline orders, Chu says: "We're interested in not just being the OEM, we're also interested in operating the aircraft. The partnership that we would build with a potential airline, for example, or any partner really takes a bit longer."
Andre Stein, head of Eve, the UAM unit of Brazilian airframer Embraer, says that the company is "definitely…looking at the Asia-Pacific" across different markets in the region. He hints that markets where Embraer has tied up with local partners, such as Australia and Singapore, are "open for…orders and partnerships".
One key characteristic of the region, says Chu, is the "strong demand" for "seamless mobility". For instance, Singapore, where Volocopter has its Asia-Pacific headquarters, is "incredibly innovative and open to new technology and new forms of sustainable mobility".
Singapore is also where Volocopter performed a manned test flight with its eVTOL prototype in 2019, across the Marina Bay central business district.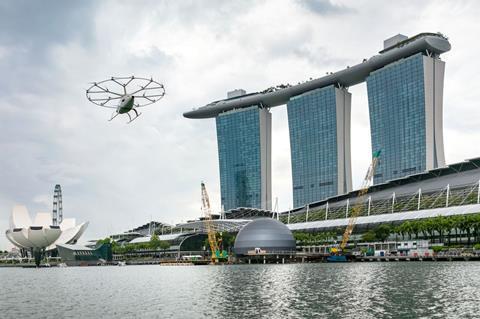 The German company has set a 2023 target to launch electric air taxis in the city-state after conducting further tests, flight trials, as well as evaluations.
Agreeing with Chu's sentiments, Eve's Stein notes that Singapore is pushing the envelope for innovation and is "ready to embrace change".
He notes that other Asian cities, such as Bangkok and Manila, already have some form of urban air mobility, in the form of inter-city helicopter services.
"It becomes so much more efficient when you plug in an eVTOL on that," Stein tells FlightGlobal.
Chu also notes that the Asia-Pacific region has "strong cooperation" with their counterparts in Europe and North America. One example is the updated working agreement between the Civil Aviation Authority of Singapore (CAAS) and the European Union Aviation Safety Agency (EASA), first announced in early December.
Under the amended agreement, CAAS will be able to validate EASA design approvals concurrently, and in close coordination with its European counterpart's type certification processes, allowing companies in Singapore to get speedier approval to use new and emerging aerospace technologies.
Still, amid their optimism about netting commitments from Asia-Pacific operators, both Eve and Volocopter say they are acutely aware of the challenges they face.
Eve's Stein notes that some obstacles are not unique to the region: these include the regulatory environment, consumer acceptance, as well as infrastructural challenges.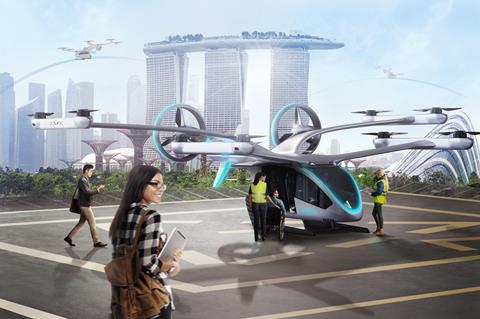 "We need to engage with the community and other stakeholders in order to create that infrastructure to be placed. [Also, it's about] the right time, the regulatory environment, this connection with urban air traffic management as well, and that's a big enabler for wherever we need to happen," Stein adds.
As for Chu from Volocopter, he believes that the largest challenge in the region is finding – and retaining – talent.
"We need to look for the right combination of expertise: passion for the industry…and also a dedication to sustainable mobility. Our people are the secret sauce, and that is the most valuable asset that we have. That remains, I would say, the largest challenge – hire the right people and work together as a team to make it a reality," he tells FlightGlobal.
Both companies also note their respective advantages against the competition, which is slowly heating up in the region.
Volocopter's Chu says: "Our strategy is not necessarily to be a pure OEM…or manufacturer of the aircraft, so we intend to be involved in the operations of the aircraft as well."
The company also touts its long experience – amounting to nearly 10 years so far – in UAM development, with prototypes flying and concepts undergoing testing. It is also the only eVTOL company with a design organisation approval from EASA, an award that Chu says puts it well ahead of competitors.
As for Eve, Stein touts the company's links to Embraer – a known airframer with a track record in aircraft manufacturing – as its strongest suit.
"Out of all these players out there, no one has the same type of DNA and background in terms of developing and certifying products and services. So when you can leverage that, that helps us a lot to create solutions that are feasible, that are robust, that have the best economics," he tells FlightGlobal.
Stein adds: "[What is] particularly relevant for Asia-Pacific, is how we leverage the … existing footprint, when it comes to service and customer support."