The US government's Military End User (MEU) list covers a broad swathe of Chinese and Russian aerospace companies, but stops short of listing airframer Comac.
The MEU list amends the US government's Export Administration Regulations (EAR), which aim to control the export of sensitive technologies. Companies on the list are subject to special export licencing requirements.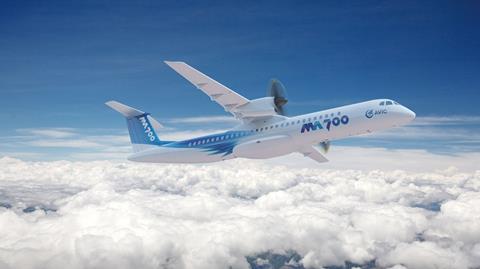 Previous press reports had suggested Comac, a major user of western aerospace technology, would be included in the list, which was published on 23 December.
"This action establishes a new process to designate military end users on the MEU List to assist exporters in screening their customers for military end users," says commerce secretary Wilbur Ross.
"The department recognizes the importance of leveraging its partnerships with US and global companies to combat efforts by China and Russia to divert US technology for their destabilizing military programs, including by highlighting red flag indicators such as those related to Communist Chinese military companies identified by the Department of Defense."
The MEU list comprises 57 Chinese entities and 45 Russian ones. The vast majority of companies listed are in the aerospace sector, with a clear preponderance towards companies with well-established links to military programmes.
Several AVIC units involved in developing aircraft engines are listed, including the commercial arm of the Aero Engine Corporation of China (AECC), which is developing the indigenous CJ-1000A powerplant for the Comac C919 narrowbody. AECC and its various units are leading China's development of military engines.
Unsurprisingly, several companies that produce military aircraft are on the list, such as Chengdu Aircraft, Guizhou Aviation, Harbin General Aircraft, Shaanxi Aircraft Industry, Shenyang Aircraft Corporation, and Xian Aircraft Corporation.
While Comac itself is not listed, two key partners are. The Shanghai Aircraft Design and Research institute aids in aircraft design, while Shanghai Aircraft Manufacturing, which builds the ARJ21 regional jet, are both on the MEU.
One notable omission from the list is China Aviation Industry General Aircraft (CAIGA), producer of the developmental AG600, the world's largest amphibian. While the type is pitched as a parapublic aircraft, a 2019 report from the USA's Defense Intelligence Agency contended that it will also serve as a military asset.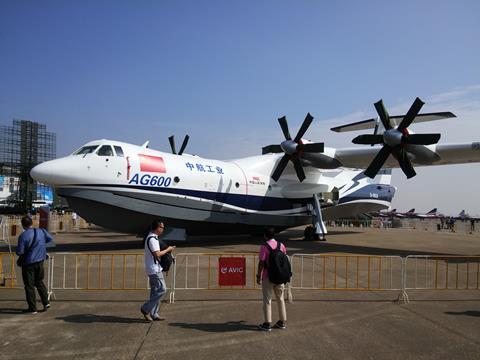 And while the C919's complete reliance on western technology, including its CFM International Leap engines, appears to have kept Comac off the list, the developmental MA700 turboprop may find itself in a more awkward spot. The type is being developed by MEU-listed Xian Aircraft. The Chinese firm is a prolific producer of military transports, as well as bombers such as the H-6 and developmental H-20.
Powered by two Pratt & Whitney Canada PW150C turboprops, the MA700 relies on systems from western firms such as Meggitt, Collins Aerospace, and Parker Aerospace. At the 2018 Farnborough air show, Parker said it would work with AVIC FACRI Actuation Systems (itself included on the MEU list) to develop fly-by-wire flight control actuation systems for the MA700.
Major Russian aerospace companies, which are in any case already subject to US sanctions, are included as well.