L3Harris Technologies is to acquire a pair of Boeing 747-400s for Virgin Orbit as the small satellite launch specialist boosts its fleet of modified jumbo jets to meet increasing customer demand.
Delivery of the initial example under the contract is scheduled for 2023 following its conversion to the new role by L3Harris.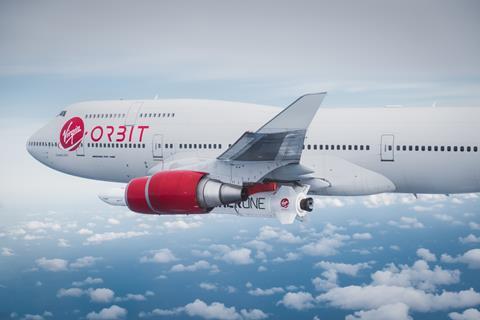 The most obvious change is the installation of a custom-made pylon, capable of supporting 38,600kg (85,000lb), on the port-side wing inboard of the number 2 engine, to carry the LauncherOne rocket, which is typically released at around 35,000ft.
In addition, L3Harris will implement a new cargo configuration on the 747-400, allowing Virgin Orbit to deliver rockets and ground support equipment on the same aircraft that will serve as the launch platform at foreign spaceports.
L3Harris handled the conversion of Virgin Orbit's current 747 – dubbed "Cosmic Girl". That aircraft (N744VG) is a 2001-built example powered by GE Aviation CF6 engines and acquired from sister carrier Virgin Atlantic Airways. No details of the provenance of the latest airframes has been disclosed, however.
While Virgin Atlantic no longer operates 747-400s, Cirium fleets data records around 80 examples, including freighters, as currently in storage, with another 230 in service.
In addition, although the contract with L3Harris commits to the conversion of one of the two 747-400s, the partners have not disclosed their intentions for the second airframe.
"Virgin Orbit is at an exciting juncture in our growth as a company," says chief executive Dan Hart. "As we expand our fleet to serve customers worldwide, we're enthusiastic to once again partner with L3Harris."
To date, Cosmic Girl has completed three commercial launches, successfully deploying 26 satellites into orbit for civil, government and military customers.
Virgin Orbit says it will continue operating Cosmic Girl, including a first launch from Spaceport Cornwall in the UK, which is expected later this year.