German urban air mobility company Volocopter has secured commitments for 150 electric vertical take-off and landing (eVTOL) aircraft from its joint venture in China, marking its first major order from the Asia-Pacific region.
It comes as Volocopter and Aerofugia, a unit of China's Geely Technology Group, finalised details of the joint venture, which was first announced in April.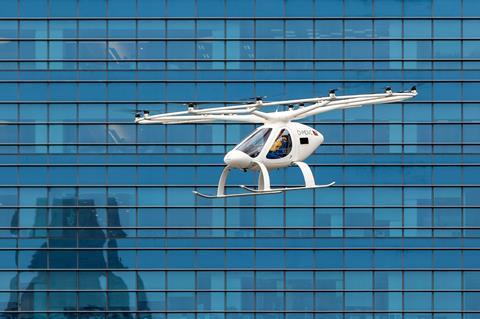 The unit, known as Volocopter Chengdu, will "work closely with the aviation aviation, transportation, and government agencies" in Chengdu, where it is based, as well as other parts of the Chinese mainland, with the goal of rolling out urban air mobility in the country within the next five years.
Among its other roles, Volocopter Chengdu will also work with Geely's general aviation manufacturing unit to produce Volocopter aircraft parts in China.
"This production agreement will strategically satisfy the fast-growing demand for air taxi services after commercial launch in China," says Volocopter.
Noting that China is "the biggest single market opportunity for the UAM industry", Volocopter chief Florian Reuter says the joint venture puts the company "in pole position" to introducing air taxi services around the world.
Adds Volocopter Chengdu chairman Jing Chao: "With its establishment, Volocopter Chengdu can accelerate the deployment of air taxis and UAM business. UAM is an important part of the new aviation industry, which coincides with Aerofugia's technical route and business plan of 'new energy, vertical landing and take-off, and autonomous driving.'"
In April, Volocopter filed for a business licence in China, and entered into a joint venture with Geely, a Chinese mobility conglomerate which is also one of its strategic investors.
As part of the joint venture arrangement, Geely group chief Daniel Li Donghui will join Volocopter's advisory board, the company says.