German urban air mobility (UAM) company Volocopter has named former Airbus Defence and Space chief executive Dirk Hoke as its new chief executive.
The company says on 8 March that current CEO Florian Reuter will manage the transition and step down in September.
"Combining our success with Dirk's experience and vision for our company, Volocopter will continue to lead the emerging industry and successfully master the coming phase of growth and commercialisation," says Volocopter's advisory board chairman Stefan Klocke.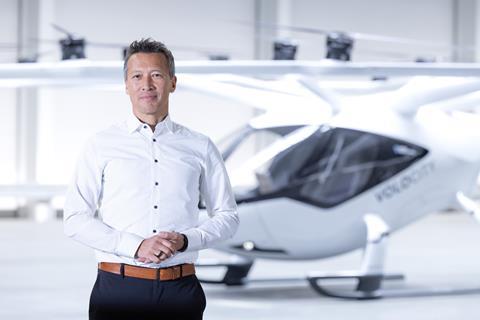 "The ability to attract such a renowned industry leader is proof of the quality of the work done by our team. Volocopter is in the best shape ever: We fly our aircraft in cities worldwide, increased our valuation to over $1.7 billion, raised over $579 million in funds and established historic industry milestones that make us the undisputed leader in UAM," he adds.
"No company is closer to making this most innovative form of mobility a reality in cities around the world than Volocopter," adds Hoke. "Bringing electric air taxis to market in the next years is a dream come true not only for me but for many."
In a LinkedIn blog post published on 8 March, Reuter says he is leaving for personal reasons, adding that he spent "more than seven years of living the Volocopter dream".
"Building this company from a five-person research project to the world's leading UAM company with over 500 professionals, raising over $550 million in funds from world-class investors and strategic partners, has been a great privilege," he says. "I will forever be grateful for the experiences we shared, the milestones we achieved and the people I met along the way. I've dedicated my heart and soul to this journey. It has been extraordinarily demanding and rewarding at the same time."
"I feel that now is the right time to make a change – for me, my family and also for Volocopter," he adds.
Hoke spent more than five years at the Toulouse-headquartered airframer's Defence & Space unit before leaving in September 2021. Earlier, he worked at Siemens in a variety of leadership roles based in Asia, Africa and Europe.