Airbus Helicopters has received an order from the Western Australia police for a single five-bladed H145 helicopter for airborne missions, making it the first Australian operator of the type.
The helicopter will replace the police force's sole Kawasaki BK117B, says Airbus Helicopters. It will also operate alongside the police's AS365 N3+ helicopter.
Cirium fleets data indicates that the police force's BK117B, registered VH-WAH, first entered service with Hachidai Corporation in Japan in 1990, before it was delivered by the police force two years later.
Apart from the two rotorcraft, the WA police also operates three Pilatus PC-12s, and one GippsAero GA8 Airvan.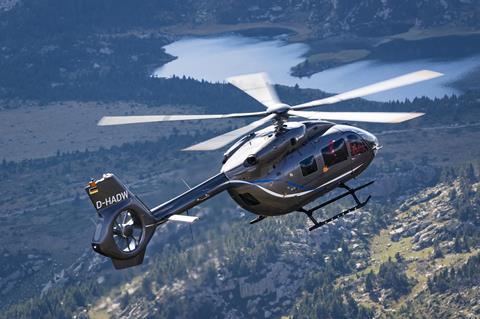 Airbus Helicopter states that the H145, which will be based in Perth, will offer capabilities for the WA police, including night vision goggle compatibility, as well as single-pilot and instrument flight rules.
It will also have a fully integrated on-board police mission system, alongside Airbus's Helionix avionics suite and a 4-axis autopilot system, which Airbus Helicopters say will "significantly" reduce crew workload.
"The H145 is well regarded as a reference law enforcement helicopter, and we are proud to be able to configure the aircraft to include the mobile policing command post to enhance the capability of the WA Police Force, both in the air and on the ground," says Airbus Australia Pacific managing director Andrew Mathewson.
Airbus Helicopters did not indicate when the WA police will take delivery of the rotorcraft. Earlier reports have indicated an end-September timeline for Airbus Helicopters to begin deliveries of the five-bladed H145s, after it achieved European certification of the modification.
The upgrade sees the H145 gain an additional 150kg (330lb) of useful load from the higher performance of the new bearingless main rotor. The improved rotor also helps lift maximum take-off weight by 100kg, to 3.8t.