Charisma and leadership, two qualities that are hard to measure but on which the success or failure of a company can hinge.
At least, that is the contention of Philippe Petitcolin, who, at the time of writing, was counting down to the end of his five-year tenure as chief executive of French aerospace giant Safran.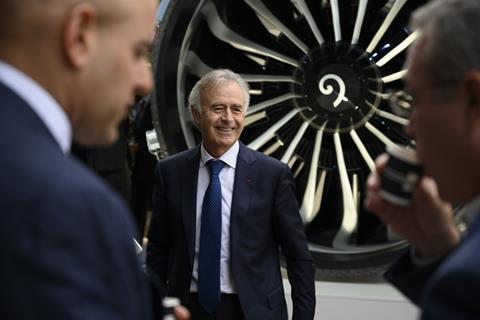 He is due to hand over to Olivier Andries in January and while hesitating to proffer any counsel on the group's future direction, Petitcolin does give this piece of advice.
"Just be yourself. I think when running a company like Safran you need leadership and charisma. So this is what I am going to tell him.
"I'm not going to try to give him some ideas of how to run the company. We are all different, so let him run the company the way he thinks he should."
Those two qualities are vital he says, because "we are established in so many countries" and "people in Thailand or Morocco see the company through the management".
But in Petitcolin's case, you might also add humility and modesty to the list. He is, he says, "not the kind of person who wants to be on the highlights and recognised for things, especially things I haven't done."
Safran has demonstrated steady growth since his appointment in April 2015 – revenue rose from €15.7 billion ($18.5 billion) in 2016 to €24.6 billion in 2019, and income followed a similar course, growing from €2.4 billion to €3.8 billion last year.
But in further evidence of that modest streak, Petitcolin declines to take much, if any, credit for that sustained period of success, noting the long lag in aerospace between making a commitment and its eventual outcome.
"When you make a decision the results or the consequences of your decision, you don't have it in the following three months or six months – sometimes it takes five years or 10 years.
"I did well over the five years because my predecessors did extremely well. I didn't do anything to launch the CFM56 with GE – that has been done in the 1980s – but I have all the profit from what they did," he says.
At a broad strategic level, one of Petitcolin's earliest decisions was to shift Safran's focus to laser in on commercial aerospace. That defined what the group would and, crucially, would not do in the future.
But that altered course spelled the end for the security business unit that his predecessor, Jean-Paul Herteman, had painstakingly built up.
"If you look at what I did – the change of strategy – it was not that easy to decide the segment that my predecessor had invested in, the security business, was the one I wanted to sell."
But, he argues, "security was not our business," adding: "we had nothing to do in it".
"You cannot invest in everything," he says, noting that the "core business" was and is aerospace.
In a twist, Petitcolin's role immediately prior to taking the chief executive role was running the security business he put up for sale. Of course, that gave him an intimate knowledge of the unit's weaknesses.
"I knew exactly what the business was, its future, and what the main things to achieve were," he says. It lacked, he says, both products and people. "I knew that I needed to go outside [Safran] and buy some businesses to get products and hire the talents I needed to grow the business." It presented, he says, "a huge challenge".
"On the other hand we knew that consolidation in the aerospace industry would come and we needed to conserve our resources. We didn't have the resources to do both – so we had to make choice."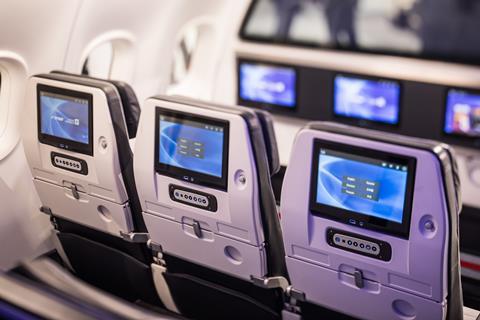 But those divestments – the detection business went to Smiths Group for €710 million, and the identity and security unit to Advent International for €2.4 billion – helped to bankroll the acquisition of troubled French interiors manufacturer Zodiac Aerospace.
That move helped to cement Safran's position as a top three aeronautical supplier (behind only Raytheon Technologies and GE Aviation) and reduced its reliance on revenue from propulsion but was not without its headaches.
At the time the acquisition was announced, Zodiac was in a mess: industrial issues across several sites meant that deliveries to the big airframers, particularly Airbus, were late, slowing the ramp up of crucial programmes.
Indeed, mid-negotiation over the terms of the merger, Zodiac released a new profit warning, which took Safran by surprise.
Petitcolin points out there are ups and downs in every negotiation - moments "where you think it is going to be extremely difficult or impossible" – and the talks with Zodiac were no exception.
While he never thought Safran would be unable to get the deal over the line, "there were moments where I didn't know any more if the acquisition would be a good fit for us".
That, rather than Zodiac's financial health, would have been the show-stopper. "The quality of the profit warnings didn't help to make us feel more comfortable. But today I am perfectly fine with what we did."
Despite some issues Safran discovered at the operational level, Petitcolin says there were "no real big surprises" following the completion of the acquisition in March 2018.
To fix the problems was relatively simple, however. "We changed the people. When you are in this kind of situation you need a team that understands you without talking. You need to be exactly on the same level of behavior," says Petitcolin.
"You know the people who think like you and those are the people to put in charge."
Although the turnaround has been derailed by the current crisis in aerospace – the interiors business unit remains the worst afflicted of Safran's divisions – Petitcolin says by the end of 2019 "we were really on track".
But the entire group has been hammered by the effects of the coronavirus pandemic – revenue is forecast to be 35% down year on year – necessitating wide-reaching cost-savings across Safran, including a 30% reduction in research and development spending this year.
Petitcolin identifies R&D as the foundation of any aerospace company's success: "You must be ready the day your customer wants to launch a programme," he says. "You need to spend a tonne of money, as much as you can."
Bearing that in mind though, there seems to be a fundamental contradiction between taking an axe to R&D spending and the requirement to prepare for the next generation of aircraft – particularly when there is increasing emphasis on new propulsion technologies required to meet the low-carbon agenda.
However, Petitcolin is relatively sanguine about the situation, bearing in mind the French government's promised increases in aerospace research funding across the next two years, with particular emphasis on low-emission technology. Safran can expect to access around 30-40% of the €1.2 billion total, he estimates, plus a share of any additional contribution from the EU.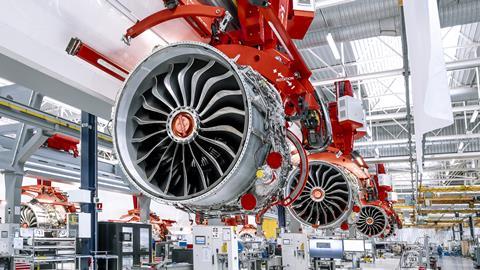 But what of the next generation of commercial engines? Safran is working to a timetable that foresees the launch or pre-launch of a new airliner in the 2025-2027 period, he says.
"We are working very hard with our partner GE [Aviation] in order to find an engine that would save a lot of fuel – whatever the fuel is – a saving of around 20% over the Leap," says Petitcolin.
There is no decision on the fuel type yet, with biofuel, sustainable aviation fuel and hydrogen all vying for consideration. "We are working on all these options but only by 2025 will we be able to tell our potential customers what is likely for service entry by 2035."
However, he stresses that there is no new engine in development, merely research on the technologies to support it.
Of course, when Airbus, one of your biggest customers, expresses a preference for hydrogen as a power source, that can alter your thinking.
Petitcolin describes hydrogen as "not the easiest" of the three options, adding: "We are working on the three in parallel and hope hydrogen is going to be the winner, but it is too early to tell."
Curiously, of the four Western propulsion specialists – GE, Pratt & Whitney, Rolls-Royce and Safran – the French firm is the only one that does not make its own civil engine, be that for an airliner or business jet.
Yes, it has the hugely successful CFM partnership with GE to fall back on, plus a 65% share of the more modest PowerJet SaM146 programme on the Sukhoi Superjet, but there its commercial engine interests end.
Safran's last venture into the space was the ill-fated Silvercrest business jet engine for the Dassault Falcon 5X, the failure of which led to the cancellation of the aircraft programme.
Although he did not launch the Silvercrest, Petitcolin was in charge of what was then Snecma – now Safran Aircraft Engines – during its development phase; in fact, he signed the deal with Dassault to equip the 5X.
And while he is reluctant to admit any regrets from his time at Safran, a career that encompasses stints at virtually every division, the failure of the Silvercrest clearly rankles; it was, he says, "something we did not manage very well".
"Maybe we should never have tried to get into this market. I didn't stop it. I didn't launch it, but I didn't stop it, maybe I should have done.
"I could have stopped it but I'm not sure I would be in this job today because I would have been pushed to the side," he says.
Despite the scars, Petitcolin thinks that "in the long run we will have to rethink what we tried to do with Silvercrest."
That does not mean challenging the main players – Safran is not "big enough", he says – "but I think that it makes sense to rethink what we could do in regional or business jet engines." At some point, he says, a successor to the SaM146 will be required.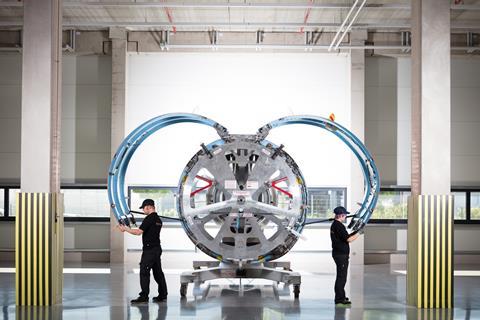 In the meantime, Safran will have to content itself with revenue generated from CFM. As previously noted, Petitcolin was not responsible for the founding of the joint venture, but he was in the hot seat at Snecma for the launch of the Leap engine, one of his biggest achievements, he says.
But it was not just the launch – attaining the same 75% market share in the narrowbody segment as previously gained with the CFM56 was just as important.
"With GE we have been able to maintain this market share. It is not easy at 75%: the only thing you can do is lose share."
But even here, that stubborn streak of modesty is at play again. The lock-in with Boeing was always likely to continue, he says, and the 60% share on the Airbus A320neo is "basically what we had on the CFM56.
"I don't know if it is impressive – it is what it is," he says; only by increasing the figure to 70-80% would it be noteworthy, he argues.
Petitcolin's career with Safran began in the automotive filters business of what was then Labinal. That division was then sold in 1998 to French firm Valeo taking him with it.
A three-year stint outside of Safran followed, before rejoining in 2001, leading to a perhaps surprising conclusion: Petitcolin contends that automotive "is ahead of us in terms of the maturity of supply chain, on time delivery and in terms of quality".
For anyone that's owned a car that appeared to have been put together late on a Friday afternoon, that may seem counter-intuitive, particularly against aerospace's reputation for tiny tolerances and precision engineering. But Petitcolin insists that given the volumes being dealt with, it cannot be any other way.
"When you are building 3,000 or 4,000 cars per day, if you have a quality problem it takes you three or four weeks to discover – by that point you have 30 or 40 or 50,000 cars to inspect. In our business we are talking about a few engines."
The automotive supply chain has been "totally rationalised", something which is yet to happen in the aerospace sector, partly due to the speed at which programmes are developed.
That overdue consolidation process may be accelerated by the current crisis, but he questions whether the relationship with the supply chain will be fundamentally altered.
"There is not a resistance [to change] but it is the way that people have been working for years. They do not see yet the need for huge change. On-time delivery does not exist in our industry; within 48h, it's good. In the automotive industry… if you are one hour late it can stop the assembly line."
That will change as new programmes arrive, but it is "too difficult and too costly" to implement changes on current products. "It is better to fix the supply chain than to replace it with another one," he says.
One of the tasks – arguably chores – a chief executive must perform every three months is to run financial analysts through the company's quarterly results.
The latest grilling took place on 30 October, and featured, as you would expect, interrogation on the coronavirus crisis, the 737 Max and so on. But having received an answer to his questions – the last of the day – one analyst took a moment to acknowledge that it was the outgoing chief executive's ultimate appearance on a results conference call.
He wanted, said the analyst, to take "30 seconds" and thank Petitcolin for his "incredible contribution" to Safran over the last five years.
The response? "Thank you, that's very nice of you," said Petitcolin, modest to the last.