Advanced powertrain developer ZeroAvia has selected the Cessna Grand Caravan as the launch platform for its ZA600 hydrogen fuel cell propulsion system, with certification targeted for 2025.
Covered by a "non-exclusive" development agreement between ZeroAvia and Cessna owner Textron Aviation, the partners will work together to integrate the 600kW ZA600 powertrain onto the Grand Caravan.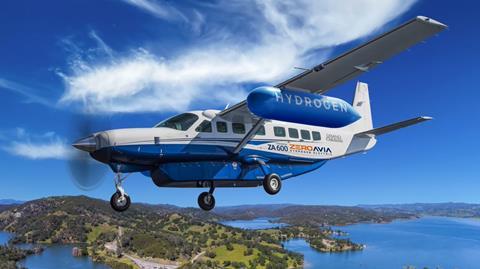 ZeroAvia says its solution will be available as a retrofit for existing Grand Caravan customers, with the replacement of the 675shp (503kW) Pratt & Whitney Canada PT6 engine with the ZA600 powertrain to be covered by a supplemental type certificate (STC).
Tanks for gaseous hydrogen will be located underneath the Grand Caravan's wing "ensuring operators can maintain seat capacity or cargo space", says ZeroAvia. However, it has not detailed the planned location for the fuel cells and related systems.
In June, ZeroAvia indicated that it hoped certification for the ZA600 would be obtained in 2024. It is not immediately clear if the new 2025 target relates to the aircraft STC or the powertrain itself.
ZeroAvia has previously announced agreements regarding Grand Caravan conversions, including the Red Sea Development Company and low-carbon lessor Monte.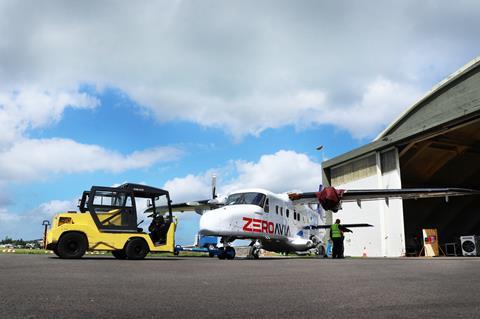 Development of the ZA600 powertrain has been taking place under the UK government-funded HyFlyer II programme, modifying a twin-engined 19-seat Dornier 228 to run partly on fuel cell power. The aircraft's port-side Honeywell TPE331 turboprop engine has been replaced with an electric motor, while the fuel cell and cooling systems, and gaseous hydrogen tank, plus back-up batteries, are housed inside the rear fuselage.
Flight tests of the converted Do 228 from ZeroAvia's UK R&D facility at Cotswold airport are "anticipated over the next few weeks", it says. Medium-speed taxi tests were conducted at the facility earlier in September.
ZeroAvia's focus on the venerable Grand Caravan is the latest modification project to target the utility turboprop. Battery- or hybrid-electric conversions are already being proposed for the platform by Ampaire, Dovetail Electric Aviation and SurfAir Mobility.

Dominic Perry is deputy editor of Flight International but also contributes extensively to flightglobal.com. Although specialising in the coverage of the helicopter industry, he has written on most topics in aerospace – be they commercial, defence or business aviation. In addition, there has been an increasing focus on the decarbonisation of the industry and zero-emission flight initiatives.