A Boeing 737 Max has taken off in China for what appears to be its first test flight in its local recertifcation campaign, possibly paving the way for a return to service in one of Boeing's key international markets.
Data from flight tracking site FlightRadar24 shows the test aircraft, a Boeing-owned Max 7 registered N7201S, taking off from Shanghai Pudong airport at 09:24 local time on 11 August, on a southeasterly heading.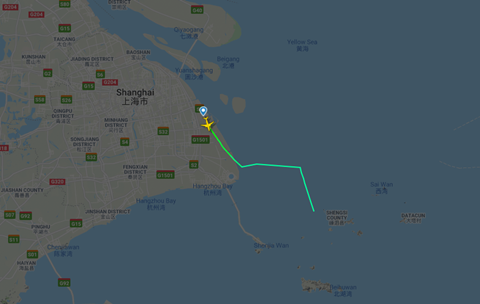 It is unclear where the aircraft is bound, or how long the flight will last.
Responding to FlightGlobal's reqyest for comment, the North American airframer says: "Boeing continues to work with global regulators as they complete their validation processes in order to better understand enhancements to the airplane."
The test aircraft took off from Seattle on 4 August, stopping over in Kalaeloa airport near Honolulu, as well as in Guam, before arriving in the Chinese city.
China was the first country in the world to ground the Boeing 737 Max, following two fatal crashes in 2018 and 2019. The type remains grounded in China, even as major economies around the world have recertified the type for service.
Boeing chief David Calhoun has predicted that Beijing will lift the grounding before year-end, adding that Boeing's plan to increase 737 Max production may rest on China lifting the type's grounding by the middle of 2022.
In early July, a Bloomberg report states that Chinese officials were warming up to the idea of recertificating the 737 Max.
China is Boeing's largest overseas market, and its carriers have ordered — or are operating — a significant number of 737 Max aircraft. Cirium fleets data indicates Chinese carriers have 97 737 Max aircraft in storage, and more than 200 on order.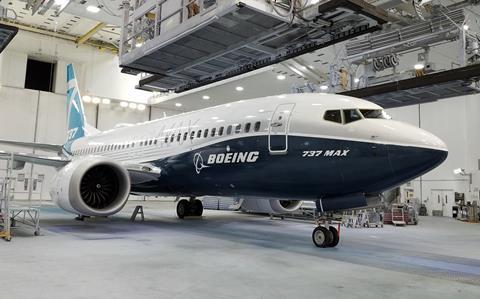 China has set out three conditions for return-to-service of the Max: the aircraft must be cleared as airworthy, pilots must be fully retrained, and clear conclusions must be drawn from the two accidents that preceded the grounding.
China's largest carriers have also indicated in recent months that they do not expect to take any 737 Max deliveries at least until 2023, providing a possible indication of how the type's ungrounding could pan out.
Story updated with comment from Boeing.