One year ago, Airbus executives in Canada laid out broad strokes of a plan to make the A220 a commercial success.
Chief among the company's goals: to boost A220 production, land sales with major airlines, reduce costs and, ultimately, make A220s profitable.
One year later, the production rate is up and several major airlines have signed purchase papers.
The degree to which Airbus has achieved cost and profitability goals, however, remains unclear. But Airbus Canada chief executive Philippe Balducchi insists the A220 programme is progressing as expected.
"The journey to get the cost down has started [and] is on [a] good track," Balducchi tells FlightGlobal on 15 January, adding that Airbus expects to achieve more cost reductions "in the coming months and year".
"We are on the normal path of an aircraft programme at this stage," adds Balducchi, who spoke at an event in Montreal during which Air Canada unveiled its first A220-300.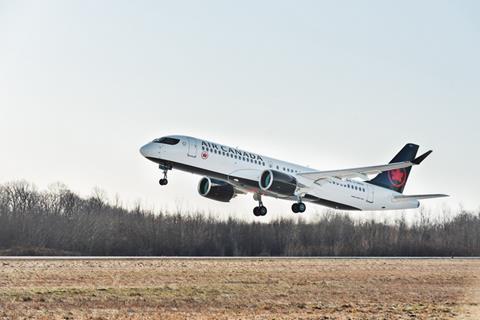 In January 2019, about six months after Airbus acquired the A220 programme from Bombardier, Balducchi described his A220 goals during a media event in Montreal.
He pledged to make the A220 profitable and said his team had initiated a broad cost-cutting effort that included seeking concessions from suppliers. The team would also work to improve production efficiency, partly by bringing Airbus's processes and systems to the A220.
Balducchi now says Airbus aims to reduce the A220's cost basis by 20%.
But he declines to disclose more details or say whether the A220 is closer to profitability.
"We have been progressing on the cost reduction. We have been having some significant progress with some suppliers. Some are still under discussion," Balducchi says.
SALES MOMENTUM
Financials aside, the A220 programme has gained momentum under Airbus. Since acquiring the programme, then called CSeries, from a struggling Bombardier in mid-2018, Airbus has landed significant new orders – the types of sales Bombardier so badly needed.
The Airbus-led deals included the sale of 60 A220-300s to Air France-KLM, the sale of 70 A220-300s to JetBlue Airways and a deal to sell 60 jets to former JetBlue founder David Neeleman's US upstart, known as Moxy.
Balducchi also notes Airbus has landed A220 deals with major aircraft lessors. Those include an Air Lease Corporation letter of intent to acquire 50 A220-300s and Nordic Aviation Capital's order of 20 A220-300s. Those deals came together in 2019.
Lessor deals are "very important to accelerate the expansion of the aircraft", Balducchi says.
When acquired by Airbus, the programme had logged some 406 orders. At the end of 2019, Airbus held 595 A220 orders, up 47%.
Airbus has made progress boosting production, having delivered 48 A220s in 2019. By comparison, the Montreal site delivered 33 A220s in 2018 and 17 in 2017.
Airbus also opened a second A220 assembly line in Mobile, Alabama, in 2018. That site will deliver its first A220 this year, the company says.
Balducchi declines to say how many A220s Airbus expects to produce this year, but notes that by mid-decade the company anticipates producing 10 A220s monthly in Montreal and four monthly in Mobile.
Balducchi insists supply chain issues are no longer stifling Airbus's ability to get A220s out the door.
"Right now we are following a normal, pretty aggressive ramp up," Balducchi says. "There is nothing holding back… It is a normal part of maturing [the] industrial system."
NO WORD ON STRETCHED A220
As have other Airbus executives, Balducchi declines to discuss whether Airbus intends to develop a stretched version of the A220 commonly called the A220-500.
He says Airbus already has a full plate addressing cost and production ramp challenges it faces with the A220-100 and A220-300.
"We will propose solutions when the time has come, and the time is not now," Balducchi says. "We will continue to listen to what the customers… want."