Air New Zealand has added Heart Aerospace, Embraer and Universal Hydrogen to a list of long-term partners, alongside ATR and Airbus, who are working with the carrier to replace its fleet of domestic turboprops with a greener option from 2030.
The Auckland-based airline says the partnerships will help it "accelerate the development and introduction of zero-emissions aircraft technology for the regional fleet in New Zealand".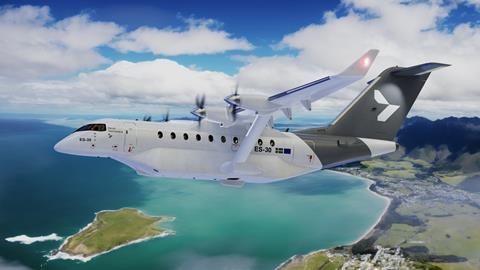 Air NZ is seeking a successor to its fleet of De Havilland Canada Dash 8 Q300 twin-turboprops under an initiative known as Mission Next Gen.
"Through our partnerships with Airbus and ATR, we've been able to deepen our understanding of the impact green hydrogen and battery-hybrid aircraft may have on our network, operations and infrastructure, as well as the opportunities and challenges of flying low- and zero-emissions aircraft in New Zealand," says Air NZ chief sustainability officer Kiri Hannifin.
"Adding Universal Hydrogen, Embraer and Heart Aerospace will broaden our knowledge of the technologies being developed for potential future aircraft."
Air NZ was already a member of Swedish developer Heart Aerospace's industry advisory board for its ES-30 hybrid-electric 30-seater and now joins a similar grouping helping to shape Embraer's Energia project.
"Smaller, regional aircraft are going to be the first platforms on which new fuel and propulsion systems can be introduced effectively. Embraer looks forward to contributing to Air New Zealand's initiative and adding their expertise and requirements into Embraer's Energia project," says Arjan Meijer, chief executive of Embraer Commercial Aviation.
"We firmly believe that the collaborative approach is the only way to ensure we have a sustainable future for aviation," says Simon Newitt, chief commercial officer at Heart Aerospace.
"Together we will be able to bring an affordable, accessible and responsible product to the flying public of New Zealand."
In addition, the carrier will work with Victoria University of Wellington's Robinson Research Institute to "evaluate and validate aircraft propulsion technology as concepts develop and mature".
The latest partnership announcement builds on the selection last December of four firms – Beta Technologies, Cranfield Aerospace Solutions, Eviation, and VoltAero – to supply smaller low-emission aircraft for demonstration flights from 2026.

Dominic Perry is deputy editor of Flight International but also contributes extensively to flightglobal.com. Although specialising in the coverage of the helicopter industry, he has written on most topics in aerospace – be they commercial, defence or business aviation. In addition, there has been an increasing focus on the decarbonisation of the industry and zero-emission flight initiatives.
View full Profile