American Airlines is strengthening its Miami and South American presence with more flights and a codeshare deal with Gol – moves following Delta Air Lines' recent South American incursions.
Fort Worth, Texas-based American is now awaiting regulatory approval of a codeshare deal with Brazil's Gol that would bring 53 Gol flights into American's network.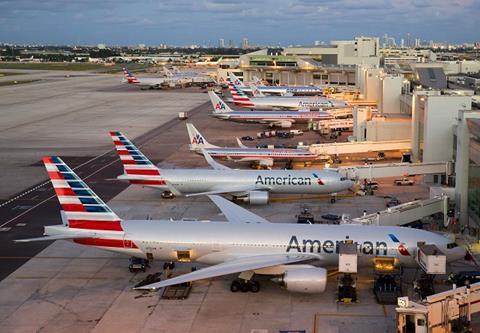 Those flights depart from five cities in Brazil: Brasilia, Fortaleza, Manaus, Rio de Janeiro and Sao Paulo. With the codeshare, Curitiba and Foz do Iguacu in Brazil, and Asuncion in Paraguay, would come into American's network, the US carrier says.
The deal, still subject to US and Brazilian government approval, will also apply to some 30 US destinations, according to American.
Additionally, this winter American will add a daily Miami-Rio de Janeiro flight, bringing its daily flights on the route to two. And in summer 2020, American plans to add 12 daily domestic flights from Miami to six cities: Boston, Houston, Nashville, Orlando, Raleigh-Durham and Tampa.
American's move to fortify its Miami hub and South American presence follows a failed joint venture with LATAM Airlines Group and resulting competitive inroads by Delta.
A Chilean court dashed the American-LATAM deal last year. Shortly after, Delta sold its 9% stake in Gol and aligned itself with LATAM, purchasing 20% of the Chilean airline group in December 2019.
In the months since, Delta has formed codeshares with LATAM partner airlines and boosted its Miami presence, adding flights from there to Orlando, Raleigh-Durham, Salk Lake City and Tampa.